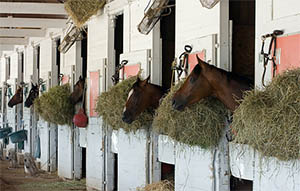 27 Apr

A Day in the Life of a Racehorse

If you're thinking about adopting an OTTB, it will be helpful to know a little about his typical day. If there's one thing a racehorse is used to, it's a routine.

It's important to keep in mind that a racehorse is not a pet. He is an athlete bred for one thing – to win races. He is, essentially, a four-legged business venture and must be kept on a strict diet and workout schedule in order for him to achieve peak performance.

A racehorse's day starts very early with his morning feeding beginning anywhere from4:30 – 5:00 a.m. After their morning meal, they are exercised for about an hour. This exercise could be anything from a light gallop along the outside rail of the track to a hard, fast workout along the inside rail. The horses that aren't tacked up and taken out are either hand-walked around the backside or placed on a hotwalker for a certain period of time. Regardless, after their morning workout these horses are bathed, groomed and put back in their stalls for the rest of the afternoon.

All of this is done before11:00 a.m.for two reasons. During the summer months, it will be far too hot to work these horses after late morning. Also, if it's a race day, these races are held in the afternoons and evenings and all stabled horses need to be off the track and out of the way.

A racehorse usually gets amiddaymeal aroundnoonand is sometimes hand-walked again between2:00 – 3:00 p.m.; then it's back to the stall to wait for dinner which arrives around5:00 p.m. Racehorses are rarely turned out in paddocks or pens to graze, especially with other horses. At4:30 a.m.the next morning, the entire routine is repeated virtually the exact same way.

A racehorse is a high-performance athlete properly conditioned to run at his very best and fastest come race day. Since he is used to practically the same schedule day in and day out, it's important to keep him on some semblance of a routine after he is adopted and brought home.