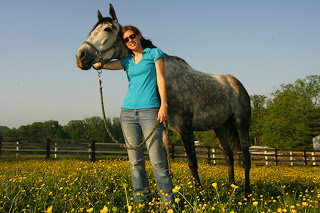 05 Nov

A Horse of a Different Color

Obviously, I love grey horses. Dappled grey horses have been my favorite for as long as I could remember. There's just something so beautiful, classic, and flashy about a dappled grey – so different from all the other brown, bay, and chestnut horses out there.

However, when I was in the market for a new horse in 2008, I didn't rule out any color (and still wouldn't). But when I got a call from a friend of a friend about a dappled grey soon-to-be ex-racehorse, I knew I had to see her. (Actually, I hesitated for a few days because I wasn't sure I'd have the skills to retrain an OTTB – off-the-track-Thoroughbred). Anyway, once I buoyed up my courage and went to see Misty, it was love at first sight. She was (and still is) literally the horse right out of my dreams.

The only problem with dappled greys, however, is that they never stay that way! Unless grey horses are kept in their stalls for most of the day (as racehorses and show horses are), their coats fade. Below are some pictures of Misty through the three years I've had her…and yes, though I HATE to admit it, she's turning white (though white, in terms of horse colors, is always considered grey).

Bah! Misty – stop it!!!
Here's Misty on her first day home (summer 2008) – she's so dark!
My sweet little 4 year old, fresh off the track and ready for a new life as a Berglie.
Misty in a field of buttercups the following spring…you can see her face has already started to lighten up.
Misty in spring of 2010, one year after the previous picture.
And here's my girl this past spring…almost all of her dapples are gone…I'm devastated!