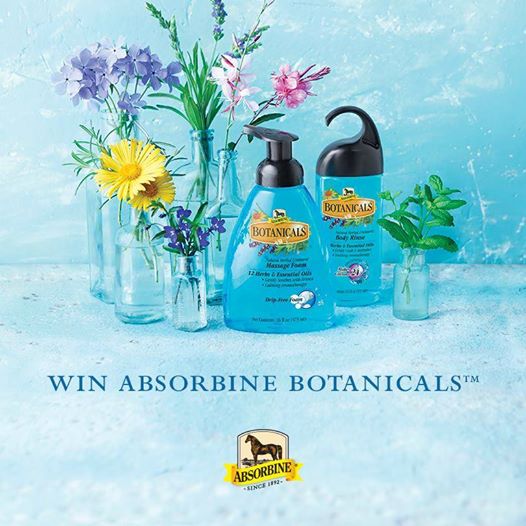 02 Aug

A Review of Absorbine Botanicals

Earlier in the summer I was contacted by Absorbine asking if I would review their two new products on my blog, and of course I said yes! I've been using Absorbine's products for years. I actually can't remember a time when one or more of their products haven't lined the shelves in my tack room. My go-to product is their Hooflex Thrush Remedy. I could buy it in bulk thanks to Maryland's wet climate.

For this post, however, I'll be focusing on two products from their new Absorbine Botanicals Natural Herbal Liniment line.

Massage Foam
I decided to use the massage foam on Bailey. Sadly, my poor boy has had a rough summer. He's had issues with thrush, followed by an abscess and general hoof soreness. The boy has handled everything in stride though. But, because of all this, I thought he'd benefit most from the massage foam. After I hosed him off (it was a hot day), I worked the massage foam into his legs, and I'm pretty sure he fell asleep during his massage! The dispenser pumps out a nice handful of foam, allowing for the perfect amount to be used to soothe his tired, sore legs.

Later that night, I noticed that he was walking more fluidly through his field than he had earlier in the day when he had come to greet me using short, choppy steps. I think it's safe to say that Bailey definitely approved of this one!

Body Rinse
Misty, on the other hand, has not had a rough summer. She has been ridden lightly – one to two times a week, and is enjoying her break from training. Unlike Bailey, she's feeling pretty good these days, so I decided to give her a bath with the body rinse. Misty loved it. Now, full disclosure, this girl loves water and loves to be pampered. However, she particularly enjoyed having her back and withers scrubbed with the foamy mix. She stood quietly while I got her all soaped up and blew out deep breaths of appreciation.

The Pros
First, I love the packaging. The classic Absorbine logo with the addition of cascading flowers beautifully complements the bright blue liquid within. Second, both products smell amazing and left my horses (and hands!) smelling clean and fresh; there was none of that gross 'wet horse' smell, which was divine. The Rinse also does a great job cutting through the dirt and lathering up well. I didn't need to use too much of it either as I've found is the case with all other horse shampoos. I also loved the convenience of the Foam's pump dispenser. It's large, flat base made my life easy as I just moved it around with me as I worked on Bailey – no spillage – no mess at all!

The Cons
I kept reading and rereading the instructions hoping they would say, "It's great for humans too!" as I would love to shower with it! I'm sure it's probably safe for human use, but I didn't chance it. Maybe one day I'll be brave and try it. But the minty smell is right up my alley – very therapeutic.

"Quickly cools, soothes, and refreshes with 12 herbs and essential oils, including Aloe Vera and Arnica. Rewards you and your horse with relaxing aromatherapy while gently soothing sore muscles and tendons." Absorbine is absolutely correct – these products will reward YOU and your horse. Using them was a great experience for all involved. I highly recommend you check them out this summer!