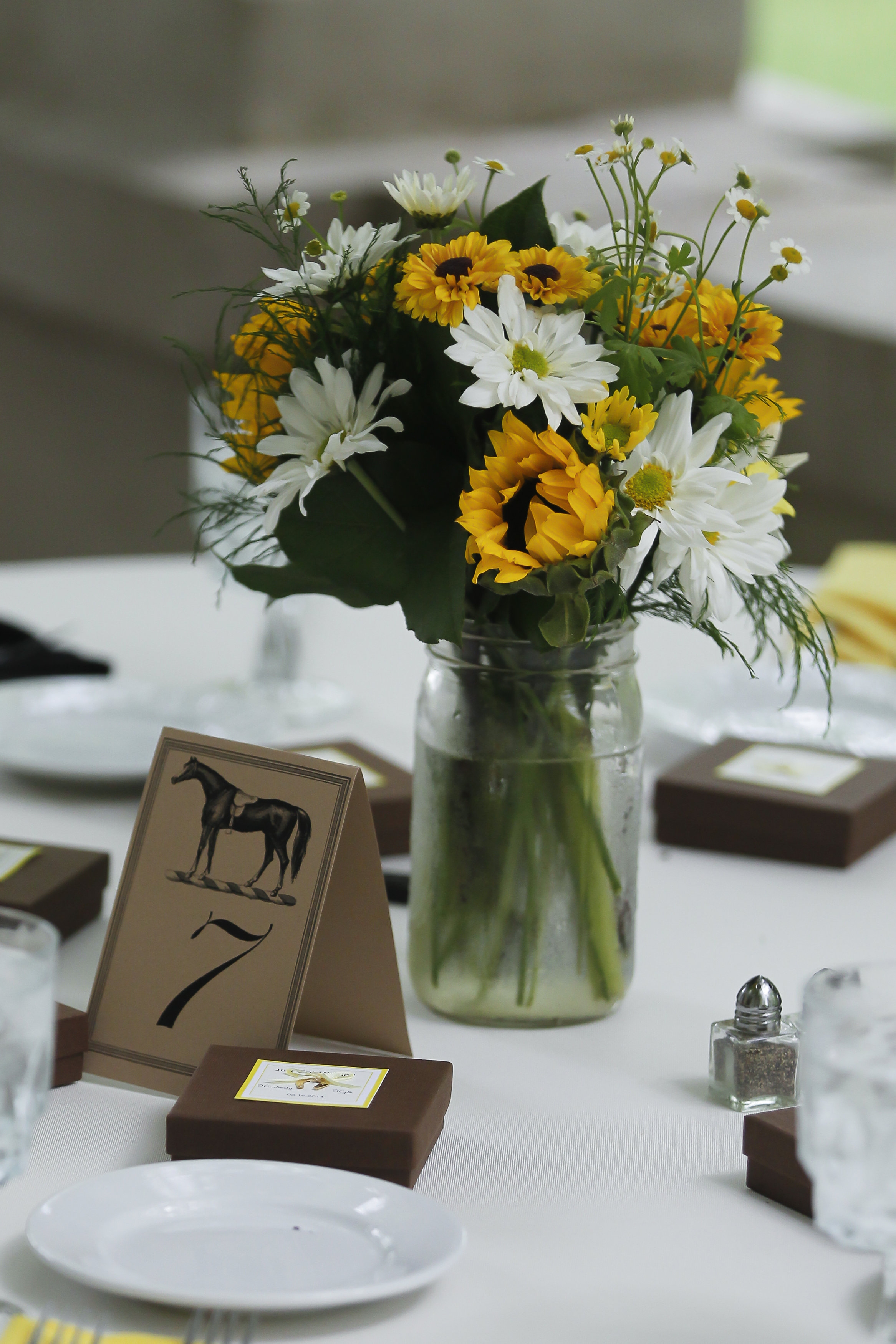 06 Jun

A Very Preakness Wedding

You guys, this was the first year since 2009 that I didn't go to Preakness. I know what you're thinking. Tragic. I have a really great excuse though – my sister's wedding! I know what else you're thinking. What kind of an inconsiderate sister ruins Preakness weekend? But she gets a pass because she and her new husband had a Horse/Preakness-themed wedding. So I can forgive her. (Unless California Chrome wins the Triple Crown).

Kim and Kyle actually got married on Black Eyed Susan Day, the Friday before the Preakness. I know we technically could have still attended Preakness, but with all we had going on, we just didn't think we would have been up for it, (and we weren't). Anyway, Kim, my mom, and I worked together to make sure the décor met our equestrian and black-and-yellow theme without being over the top. Not every little detail was horse-y, just the important ones.

The bridesmaids wore yellow, and as the Matron of Honor, I wore black. Our bouquets matched the color scheme, but since Black Eyed Susans don't bloom until late summer, we improvised with daisies and small sunflowers.

The table settings were perfect. The flowers in the centerpieces matched those in our bouquets and were placed in Mason jars for sophisticated country flair. The horse shoes were provided by my neighbor who just happens to be our farrier. My step-dad painted them black. The horse-y table number cards were purchased on Etsy for only $20!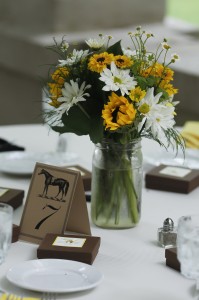 The cake was black and yellow, but the topper was a simple man and wife – no horses there. A family friend baked the sunflower cookies.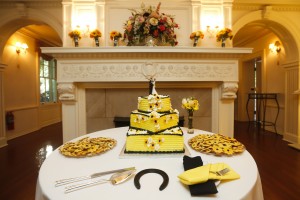 And finally – the signature drink was none other than the Black Eyed Susan! We looked up the recipe online (www.preakness.com), gave the instructions to the bartender, and we were off to the races! They were a big hit! If only we had the classic Preakness glass they are traditionally served in.
The entire event turned out wonderfully. My sister was a gorgeous bride, and we are so happy to welcome Kyle to the family. Please see a few additional pictures below. And I know what you're thinking – those pictures are awesome! Well they should be – my professional photographer husband took them! James was a groomsman AND the photographer that night. As you can imagine, watching him both at work and play was pretty entertaining.