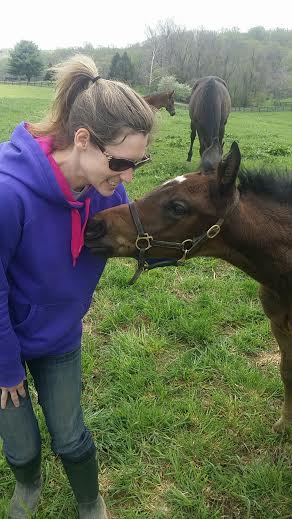 22 May

A Visit to Country Life

A few weeks ago I posted a book review on Josh Pons' "A Country Life Diary." What drew me to the book was the fact that Country Life Farm is located less than 10 minutes from my home, and I have a history of going out of my way to drive past the farm, especially during foaling season. I love stalking seeing the babies with their mamas grazing happily on the hillside.

I went to their website to see if they had any info about tours, but I couldn't find anything. No worries – a Facebook message might provide some answers! Sure enough, they did give tours, but only on special requests. On Friday, May 2nd we scheduled a tour (there were just five of us), with George, one of the managers there. Let me tell you – it was the tour of a lifetime!

George told us a lot about the farm, its history, the owners, etc., and led us over to some paddocks with mares and their week old foals. They were super sweet and curious, and we were allowed to pet them! Then – the best part of the tour – George took us INTO that big field on the hill which was full of mamas and babies just grazing happily and sleeping. One mom and her baby in particular were very curious about their new visitors and came over to be petted. Her name was Majestic Forestry and she leaned her head on us for some nice scratches. Her baby was a little shy at first, but warmed up to us very quickly and she got plenty of snuggles as well. George noted that this mare was one of the least affectionate on the farm and was surprised by her welcoming demeanor!

After plenty of kisses to the babies, we headed down to the foaling barn. There are two large stalls with thick beds of straw. Every night the two mares who are deemed most likely to foal will be brought in. Of course, there is video equipment so the ladies are under constant surveillance throughout the night. Champion Cigar was foaled in one of those two stalls – what an amazing piece of history!

We then made our way to the new stallion barn and met the horse who has the worst job on the farm – the teaser. Despite his line of work, he was very pleasant! There are three stallions standing at Country Life: Friesan Fire, Cal Nation, and Freedom Child. We weren't allow to pet the stallions, but we walked by each of their paddocks; as you would imagine, each one is gorgeous.

At the end of the tour, we met none other than the owner, Josh Pons. He was standing outside the office, so we got a chance to talk with him about the farm, horses in general, and his book. He was super friendly, answered all of our questions, and invited us back to visit any time. I hope he doesn't mean that literally or else he's going to find some semi-insane, horse-crazy girl out playing with the foals every single day!