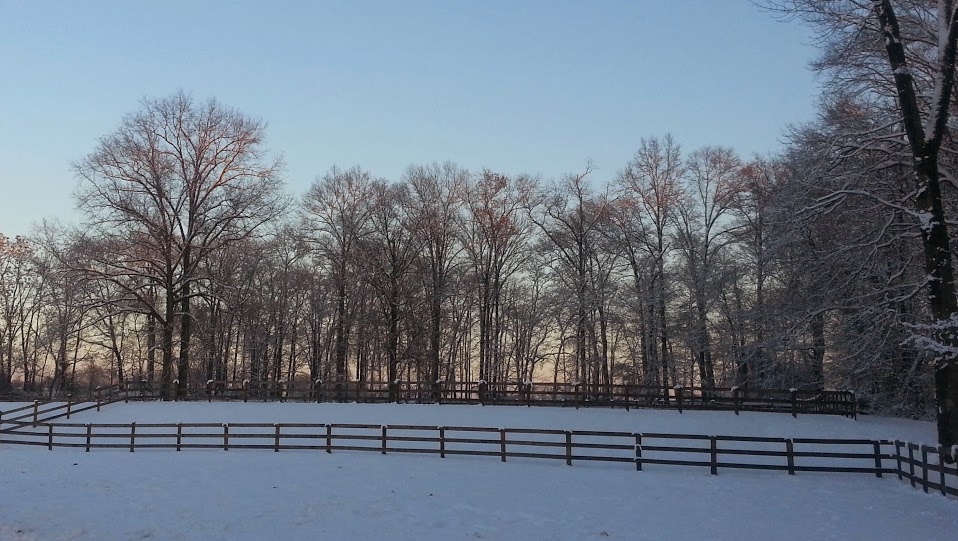 22 Dec

A Well-Timed Break

About a month ago I had kind of hit my breaking point (temporarily) with Misty. I had just had enough of her dangerous behavior and realized I needed to start thinking about my safety a little more. I had decided to take a break and just take nice, light rides on warm winter days. Well – as is typical for Maryland, the weather had something to say about that! Since my last ride on Misty, we have had a few snow storms with some pretty decent accumulation! Even if I had wanted to ride Misty more, I couldn't. The ground has been icy and frozen and slippery…and it's not even winter yet! (I'm writing this post on December 18th).

So I'm using this time to just hang out with my girls on foot…lots of grooming and snuggling and treat-giving. Misty and Komie are very warm and cozy in their coats. This time spent not riding has also made me realize how much I just like being with my horses. Misty, especially, has such a funny personality…and I love her sass (especially when I'm not in the saddle and she's trying to fling me six more feet in the air!). She just always has something to say – and I find that hysterical. Her grouchy looks, her fake-biting, her head-tossing…she's such a mare. And while I'm taking a break from her in terms of serious training, I will always ride her…and I think I'll always be a mare person.

But five and a half years of getting hurt and being scared (not to mention trainers and friends telling me to, "just be really careful with this one"), has caught up with me. I'm tired of being sick to my stomach/nervous before every ride. I know riding is dangerous – period…but at some point I need to think about my fragile 31 year old bones! I want to do with Misty what makes her happiest and most willing to partner with me…and that's easy, low key hacks around my property. I can do that for her.

My wanting a new horse in no way means I'm going to neglect Misty (because, first of all, she would never allow that!). She's my baby. And deep down in my brain is a plan, of course. I'm hoping that a new horse (one that has some experience and can teach me) will give me the skills and confidence to be a much better rider. And with that newfound confidence, I hope to, in another year or two (or three) restart Misty. She'll be 12ish by then and maybe with some maturity and a few years of not training and enjoying happy hacks, she'll be more willing to partner with me. Because I won't give up on her – us. I can't. But for now I need to become a better, stronger, more confident rider…and also have some fun! And then – Misty Mystique – I'm coming for ya!!