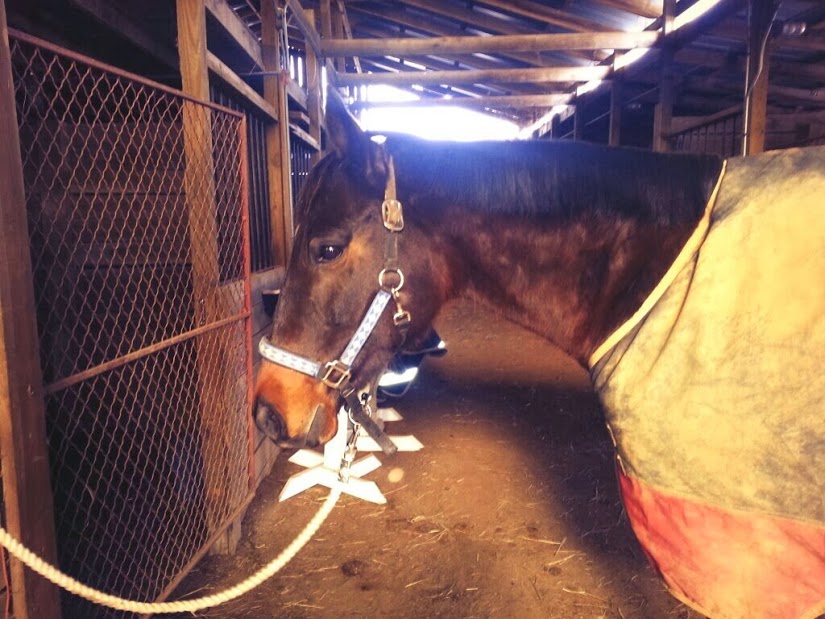 21 Feb

Bailey Boy

Here's an update on my Bailey. I got him on January 8th and have only ridden him twice since then. As most people know, the mid-atlantic and northeast have been brutally attacked by Mother Nature. This has been an ongoing battle for months now. She has won.

You can read about my first ride on Bailey here. My second ride wasn't anything to write home about. I literally put a bridle on him and rode bareback in the lower barn. This barn is a square with stalls on both the in and outside of the aisle. Therefore, there's a nice path that goes in a circle. You could probably canter around it on a really small pony. For the bigger horses, we've used it for walking and light trotting during the winter. I pulled off Bailey's blanket, grabbed my helmet, got a leg up from my mom, and off we went. All we did was walk around.

Bailey was a little confused at first, and wondered why we weren't going out of the barn, but he plodded happily along. We worked on some connection and bending, and Bailey seemed content to comply. We did that for about 20 minutes before I got bored. But at least it was time in the saddle (minus the saddle).

I've been using these few weeks, however, to get to know Bailey as best I can. I've gone over a few times each week (he's not at my farm yet) and brought him in for grooming sessions (he stands perfectly) and shovel animal crackers (his favorite treat) down his throat. It's been a good arrangement for both of us. We had our first farrier visit a few weeks ago, and my farrier (who is also my neighbor), proclaimed that Bailey was the best behaved out of all our horses. Yay!

His leading manners are impeccable. Unlike Misty, I can lead him without a chain over his nose. To this day with Misty, if I lead her anywhere (or when the vet/farrier come), I have to have the chain over her nose or else she acts like a goof. The chain lets her know that I'm not fooling around. Bailey's previous owner said that she never used a chain on his nose – ever. Imagine – a well-behaved horse! But she's right – Bailey is perfectly content to walk alongside me like a gentleman, no matter where I take him. His lead rope doesn't even have a chain on it. So nice!

It's getting to be late February now, so time is on my side. Winter is waning. I know we could still get hit with crappy weather for a few more weeks, but March and spring will be here before we know it. Hopefully I'll have more exciting blog posts about…I don't know…riding, in the near future.