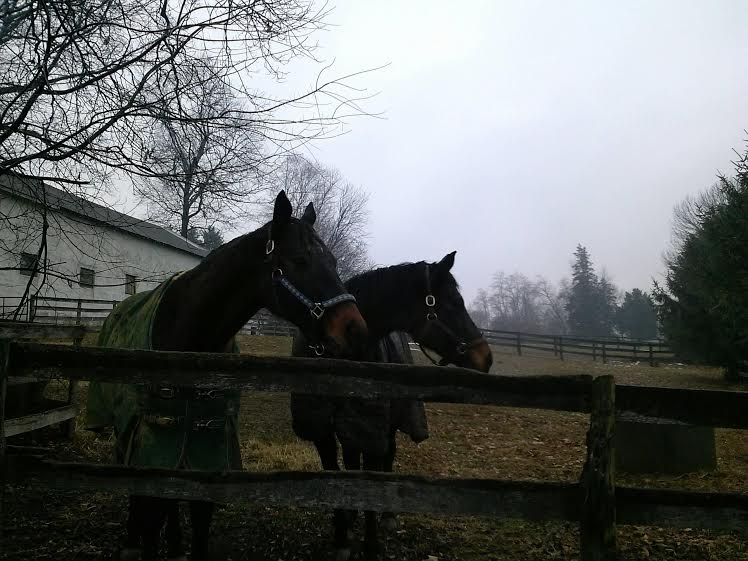 22 Jan

Bailey's First Ride

That first ride on a new horse (at home) is always nerve-wracking because it's a new environment with strange sights and sounds. So, of course, I was a little anxious to get this first ride with Bailey under my belt.

The weather in Maryland has been so crappy this winter…actually, it's been beyond crappy. A colder winter, I cannot remember. It's January 20th as I write this, and we've already had multiple snowstorms and a polar vortex with sub-zero temperatures. The ground has mostly been rock solid freezing everything in sight, but we have had some warmer days resulting in my main winter enemy – mud.

This past Sunday it looked like the stars were going to align for me to have a quick first ride with Bailey. The sun was shining and it was a balmy 32 degrees. The previous day we had 20-30 mph winds, so of course that was out. (Forget the fact that horses are spooky in the wind – I'M spooky in the wind!).

I got to the barn around 11:00 and the sand ring was still pretty hard…definitely no cantering today, and probably no trotting. But it would be fine to walk around in so Bailey could stretch his legs and get out for a few minutes.

As soon as I started tacking up Bailey, I realized that I had forgotten my stirrups; they were still on Misty's saddle at my place. Ugh. So I used my sister's saddle instead of my old Collegiate (which is a medium…Misty's expensive Stubben, of course, is a narrow and wouldn't work for Bailey). My sister's saddle is a beautiful, perfectly-worn Crosby that actually seemed to fit Bailey better than my Collegiate.

Bailey stood nicely while I tacked him up and we waited for my mom to finish with her gelding, Jack. Into the ring we went; I adjusted my stirrups and mounted up. The ground was definitely too hard to do anything other than walk, so that's just what we did. Once we had worn a little path in, we trotted for a few circles, but I could feel that the footing still wasn't great so I pulled him up.

After about a half hour (in which mom and I were just walking our horses around and chatting) we called it a day. Bailey was wonderful. He looked around curiously for a moment when we first entered the ring, and then he got down to business. I'm also really happy to report that he and Jack seemed to have buddied up and are good friends!

Even though the ride didn't consist of much, it was a good first introductory ride for Bailey. I think we're supposed to get more snow sometime this week, so that might have been my first and last ride for a while. Come on spring!!