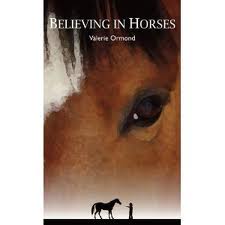 25 Nov

Book Review: Believing in Horses

Last year, I met author Valerie Ormond at the Maryland State Fair. She was sitting at the Maryland Horse Council's booth with a handful of her books displayed. She was very friendly and we swapped some horse stories and writing stories, and she was very kind while I picked her brain as I am a budding author myself. She then signed my book.

Unfortunately, I was unable to read her book until earlier this summer. I have a massive stack of books to get through at any given time, and I try to go through them in the order in which they're received. So a year later, I opened Believing in Horses and was instantly hooked.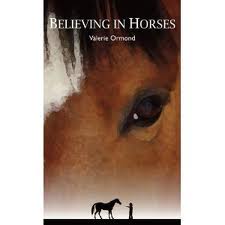 Believing in Horses is actually a children's book, but it's one that adults can relate to and will enjoy. The main character, Sadie, is a 12 year old horse crazy girl who sets herself on a mission to rescue 10 horses from auction. This book is realistic, and I like that. Things don't just naturally fall into place for Sadie; she has to work for everything she achieves. Her victories can be celebrated that much more because of the challenges she faces along the way.
Before Sadie begins her horse rescuing mission, her parents buy her a horse, Lucky. Lucky is sweet and gentle, but he isn't perfect. It takes time before Sadie is comfortable riding him without the watchful eye of her instructor. I like this because it is real life. All those pre-teen horsey books paint such rosy pictures of girls and their horses, and that's just not how it is. Horses are hard work and perfection does not come easy, if at all. This book teaches a lesson about dedication and perseverance and believing in yourself.
Once Sadie puts a plan of action together for her mission, she dives right in. She does have the help of her mom, brother, and a teacher, among others, but she runs this show herself. Her mentors are along to guide her and give her advice, but since this is her mission, she is the spokesperson. Her mom doesn't baby her; her teacher doesn't take over. They are content to guide but take a backseat so Sadie can really own this project. At 12, a local horse rescuing mission is a challenge, but Sadie is old enough to handle this type of responsibility since she has direction.
This book has it all: multiple issues, many resolutions, horse lovers, and a happy ending. And it teaches kids to believe in themselves, their dreams, and that the impossible truly isn't…and that is a pretty good lesson to learn!