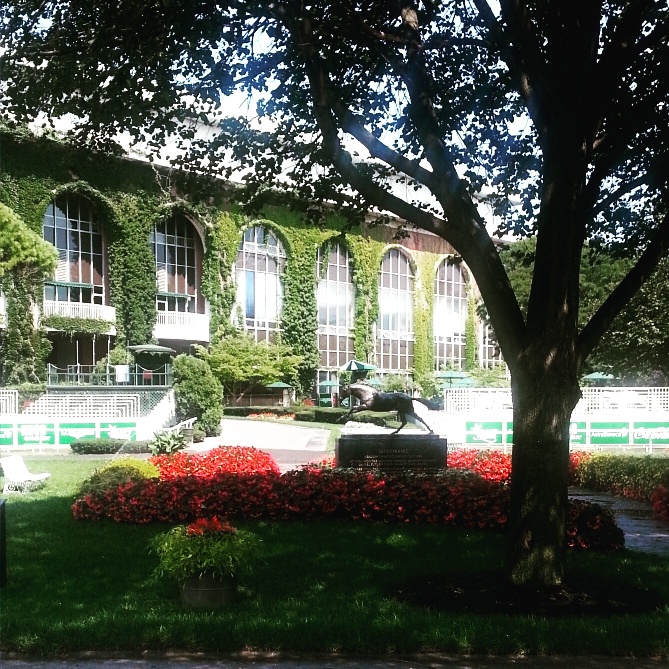 26 Aug

Belmont Park

After reading Ruffian: Burning from the Start and Ruffian: A Racetrack Romance, I wanted to visit her grave at Belmont Park in New York. I had never been to Belmont before, but since James and I were in Manhattan last week, we decided to swing by the track on our way to the Hamptons.

Prior to the trip, I had emailed the track, asking if they'd be open on that particular day so I could see Ruffian's grave. Two days before our scheduled stop, I received an email back notifying me that the track was closed and wouldn't reopen until racing began again on September 11th. Bummer!

Since the track was on our way and would only take about a three minute detour, James and I decided to drive by anyway to at least grab some pictures of the outside. Their main gate was closed, but we were able to pull into one of their side parking lots.

Now, there's something you should know about me. I am a diehard rule follower…except when it comes to horses. Then I'm one of those let's see how far I can go before I get in trouble kind of people. I've also mastered the art of looking like I know what I'm doing, so I am usually left alone, (I'm like Leonardo DiCaprio in Catch Me If You Can)!

As I approached the track with its gorgeous, ivy-covered walls, I saw that a few additional gates were open. I walked through with James, waved to a security guard like I knew him, and walked with purpose toward the saddling paddock. If I had been asked to leave, of course I would have, but no one seemed the wiser. I was reminded of my visits to Keeneland – there was no racing either time, but the track was still wide open and people milled around taking pictures. I was hoping that Belmont would be the same, and it was.

We walked through the tunnel under the Grandstand, and I got all excited thinking about how American Pharoah had made this journey just a few months ago. Out on the track, we were the only ones around. We took some pictures, and it was then that I spotted what I thought was Ruffian's grave – in the infield. I was looking around, just getting ready to hop over the fence and sprint across the track when James strongly discouraged me not to. He reminded me that we probably weren't supposed to even be inside the track, let alone running across it to the infield. What a killjoy.

So what this means is that another trip to Belmont is definitely in order! Of course, I want to attend the Belmont Stakes one day, as well as visit with Ruffian. Also, I was so very impressed with the track itself. It was clean, the lawn and gardens were well-manicured, and the whole atmosphere was absolutely breathtaking. James noted that it was much nicer than our hometown Pimlico, and I sadly agreed. (However, Pimlico has made GREAT strides within the past few years, so I'm encouraged that it will only improve)!

Please enjoy the pictures below, and if you're ever in the area, stop by for a visit, even a sneaky one.