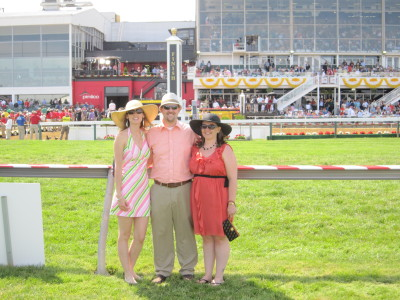 26 May

Black Eyed Susan Day!

For those of you who don't know, the Black Eyed Susan is basically the Preakness for the fillies. That means it's girls-only and is run the Friday before. This year I was lucky enough to be able to attend both days – and had a blast!!

Black Eyed Susan Day (BESD) is much more low key and way less crowded than Preakness. The gates opened a little later, at 10:00 a.m., but there were still plenty of races to watch (13). One of those is the Lady Legends for the Cure, which features an elite group of retired female jockeys. These ladies race for the cure with 75% of the funds raised donated to the Susan G. Komen foundation. Pink is the color of the day and both men and women dressed the part to raise awareness!

This year I stepped up my game and bought tickets in the Turfside Terrace; the Terrace is a huge tent set up right along the turf track – seriously some of the best seats in the house. The tickets were a little pricey, but I justified the expense by saying that they were an early (4 months early!) 30th birthday present to myself! Whatever works, right?

Anyway, my friends and I (James had a wedding so I was solo – but you gotta do what you gotta do for horse events!!) had table #6 in the first section. The Terrace is technically in the infield, but is closed off from the madness and has its own betting, bathrooms, and food/drinks (which is included in the price of the tickets).

Because BESD is less crowded, you can truly enjoy your experience at Pimlico. Entering in the morning and exiting in the evening is a breeze. I feel like this is the day that true race fans venture out, as opposed to the massive crowds which flock in for the concerts/drinking/day in the sun the following day. Once we crossed the track into the infield, however, we had a hard time going back over (to check out the sights in the grandstand/saddling paddock) because races were run every half hour. But we had plenty to keep us occupied as we bet on every race (I ended up a WHOLE DOLLAR ahead for the day!) and we ate lots of yummy food. And we lucked out because the weather was perfect – upper 70s and sunny.

The Black Eyed Susan was the 12th race of the day and was won by In Lingerie. We couldn't help but laugh at the name of another filly in that race – Disposable Pleasure. Naturally, they came in 1st and 2nd with In Lingerie flying under the wire first! I ended up betting Disposable Pleasure across the board, so I won a couple bucks!

If you've never attended BESD, I highly recommend it, especially if you're a sincere horseracing fan.