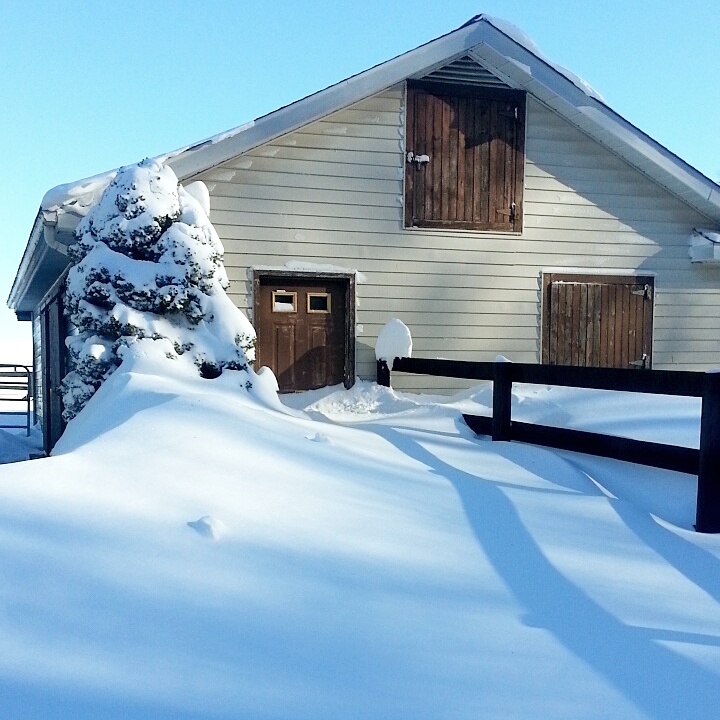 26 Jan

Blizzard 2016

Wow – what a weekend! So I think, technically, what we had was not, in fact, a blizzard. Apparently the snow didn't fall quickly enough per hour for it to be classified as such, but I'm classifying it. We had a blizzard!

It started snowing Friday evening and did not let up until very late Saturday night. As soon as it started on Friday, I put all three horses in their stalls with a thick bedding of shavings, and lots of hay and water. All locked up tight, the barn was actually really cozy. It made my heart swell to see my kids all snug as bugs!

Saturday was all about survival. The wind was blowing so hard and the snow was coming so fast that we had almost complete white-out conditions. We gave up shoveling around mid-afternoon because every time we went back out, our paths were basically gone. Sunday, therefore, was recovery. A neighbor's relative was wonderful enough to plow our driveway, but he could only get up about halfway before he got stuck in a drift.

The drifts! Because the wind was so terrible, we had some pretty massive drifts. In some areas, I could see the ground, and in others, we had six foot drifts! There were huge ones in front of Bailey's stall, around our pool deck, and across one section of our driveway.

As I write this, on Monday evening, we've had some melting – yay! – and I've let the horses out of their stalls. Of course, Misty was the wildest and ran and bucked for a bit. Bailey rolled mostly, but did his fair share of leaping around as well. Takoma, the smart one, walked out of her stall, made a small circle to survey the deep snow, and then walked right back inside. Why can't they all be like her?!

How much snow did you get in your area? We guess we got anywhere from two to three feet, but it was hard to tell because the wind whipped it around. BWI got 29.2", making it the biggest storm the area has ever seen – crazy! Up until this storm, winter had taken it really easy on us. Hopefully it's done now and spring can get here in a hurry!!