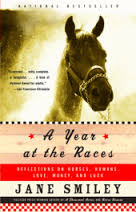 28 Jan

Book Review: A Year at the Races

Overall, I very much enjoyed this book, but I will confess that, at times, it was a little slow. That will not stop me, however, from recommending it to all of you because it is beautifully written and tells a story that so many of us horse people recognize as similar renditions of our own lives.

If there's one thing I love, it's a good story – fact or fiction. Actually, fact is usually better. In A Year at the Races, we learn Jane's horse story, and horse stories, in my opinion, are always love stories. That moment when you realize that your life will never be the same without this magnificent animal is a moment we all remember and cherish. That moment when you look at this life you lead, this one surrounded by and revolving around horses and think, everything is perfect.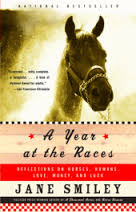 Jane's horse story takes her from riding lessons and owning her first Thoroughbred (Mr. T) to the racetrack where she maintains a small string. Her story also includes her time spent with an animal communicator who talked to Jane's racehorses about their likes and dislikes, and who was right on more than one occasion! (It makes me want to have a communicator out to talk to my silly Misty!).
Here is my favorite passage from the book, because, how true is this?
"I remember that I was excited, but very worried about the expense. I intended to try it all out, just to see if I still liked it. Instead, I went whole-hog. Mr. T needed many things. A place to live, a bridle, a saddle, a halter, some wraps and horse-boots. I needed a helmet, some magazine subscriptions, some expert advice. More trainers. Soon, the things we needed got bigger – a horse blanket, saddles and bridles, a tack trunk, a trailer, a truck. A trip to Texas in the winter. To North Carolina. To California. A farm. A companion horse. A mare. The mare needed a foal. The foal needed a facility. And more expert advice. I don't think "whole-hog" even begins to describe it. Maybe "I went crazy" is how my friends saw it, but "I found my destiny" was how I saw it."
This book was my introduction to Jane Smiley as an author, and I believe it was an excellent one. I can't wait to pick up Horse Heaven and Moo.