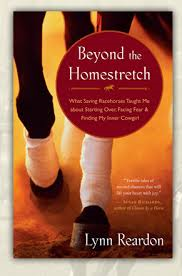 27 Aug

Book Review: Beyond the Homestretch

So Hurricane Irene is here, ruining my weekend with lots of rain and heavy wind! Since I'm inside reading (and blogging), I figured I'd give my readers a review of a book I read and enjoyed earlier this year. (And yes, it's a horse book).

After reading Lynn Reardon's Beyond the Homestretch, don't be surprised if, as a horse lover, you want to run off to Texas and start your own off-the-track Thoroughbred horse rescue. (James loves it when I read these types of books!). Lynn's stories about the horses up for adoption are wild and lively, painful and joyous, but awe-inspiring with a satisfied sense of happily-ever-after.

Lynn, a transplant from Maryland, moves to Texas to leave the 9-5 rat race behind her, (must be nice!). She expects she will live an enjoyable and fulfilling life with her husband and finally have the time to focus on her true passion: horses. What she doesn't expect is to open a rescue for off-the-track Thoroughbreds who are beautiful and fierce, high on life and who knows what else. But before she realizes it, she finds multiple four-legged friends in her care, looking to her to find them forever homes and second careers.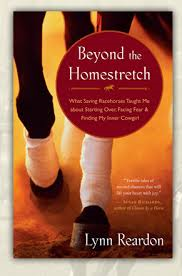 In Beyond the Homestretch, Lynn tells us of LOPE's (LoneStar Outreach to Place Ex-Racers) humble beginnings and introduces us along the way to a variety of amazing horses that are seeking a second chance at life.
We meet Zuper, "a husky bay with an endearing splash of white on his nose, [who] exuded wisdom and Buddha good cheer." We smile at the thought of sweet Sugarfoot, "[who] was known for two things at the racetrack: an endearing habit of licking her groom's bald head and her incredibly slow speed. A small red filly with gentle eyes, Sugarfoot was oddly put together, like a toy assembled in a rush." We imagine Lynn's panic as she pulls an all-nighter caring for Spider, the adorable three year old colt who was bit by a poisonous snake and lives to tell the tale. And we completely understand why Lynn decides to keep Tulsa Mambo, a large black gelding and her first adoptee, for herself.
Horse owners can definitely relate to all the trials and tribulations Lynn is put through while caring for these accident-prone animals. And while there will always be days of frustration, horses are worth the effort.
Lynn continues to make these efforts every day and her LOPE ranch has helped numerous OTTBs find life after the racetrack. For more information about Lynn and her organization, please visit: http://www.lopetx.org/ or http://www.beyondthehomestretch.com/.
I hope everyone is staying safe and dry during this storm!! Happy reading!