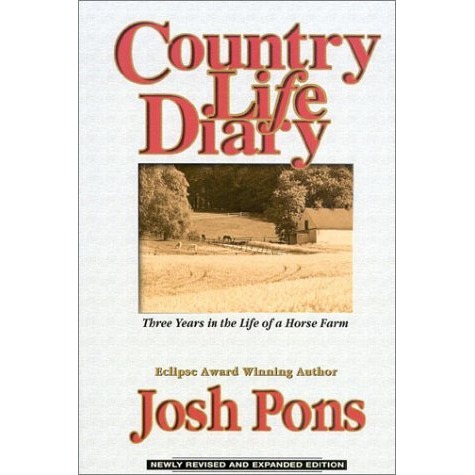 09 Apr

Book Review: Country Life Diary

Just a few miles to the northeast of my little farmette lies Country Life Farm, a Thoroughbred breeding farm and nursery. As a little girl, I used to beg my parents to drive by the farm during the spring just so I could get a glimpse at all the mamas with their foals out in their fields. As an adult, I don't have to beg anyone; I can take detours all on my own! Given the lay-out of the farm with its dense evergreen trees and rolling fields, you only get a sneak peak of the paddocks and a barn as you drive by. For years I wondered what lie beyond the fences painted black and the gates locked up tight.

You can imagine my delight when I opened a Country Life Diary: Three Years in the Life of a Horse Farm, a gift from my husband two Christmases ago. Now I would finally get more than a sneak peak; I'd get a firsthand look into the lives of the Pons family, the owners of Country Life since 1933.

Josh Pons is the author of this book, and he must be a fellow English major. While I don't know this for certain, I do know that the book, in some sections, reads like pure poetry, and literary references abound. I was hooked from Chapter One, which, of course, began on New Year's Day in 1989. In 1989, I was 6 turning 7, and I remember 1989, which means it really wasn't that long ago. It amazed me to read how business was conducted prior to email and cell phones and instant gratification. If Josh wanted to see how a particular horse ran in a race, he had to call Pimlico afterward and track down someone who had the results. Or, he had to wait for his father (or another friend/relative), to give him a call on a payphone. For those interested in breeding their mare to a certain stallion, individual VHS tapes were mailed for their review. I can imagine the horse industry is pretty pleased with current technology.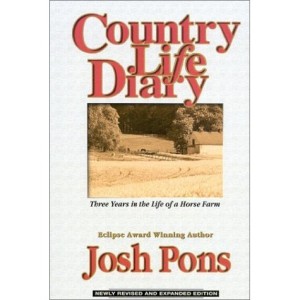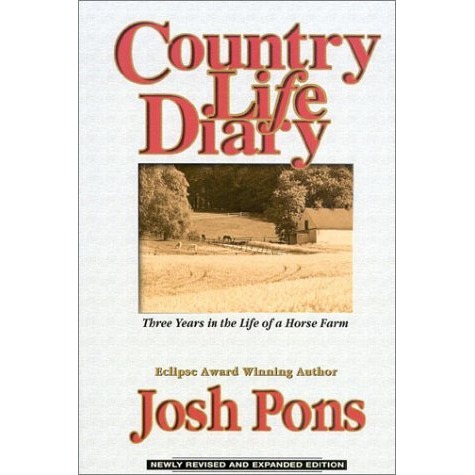 This diary takes us through three years in the life of a breeding farm. Twelve seasons come and go, and as a Maryland girl who knows exactly what February cold freezes like and what August heat sweats like (much better than February cold!), I cringed as they worked through snowstorms and scorching droughts. As a horse owner, I understand that the show goes on rain or shine; horses can't care for themselves.
Beautiful entries like these are plentiful:
Thursday, June 29. At quitting time, those who commute to work sit in the quiet lobby of the broodmare barn, swapping stories, kids around a campfire. They do not want to go home because no place is as pretty as the farm tonight. It is all in color on this unseasonably cool day – blue skies, white clover, red gates, bay mares, brown foals, black fences, grass as green as Ireland's. We work to earn such evenings.
Wednesday, September 19. Alice, Marva, and Ellen are the motivating forces behind the beautiful gardens on the farm this fall. Zinnias, gourds, sunflowers, tomatoes, herbs, cucumbers – all variety of flower and vegetable have burst forth in full bloom after the well-spaced rains of summer. Splashes of color highlight stone walls, illuminate farm signs, border the stallion show ring. No visitor to the farm has failed to admire the bountiful flora. Kipling understood that there is more than meets the eye on this score:
Our country is a garden,
and such gardens are not made
By singing: "Oh, how beautiful!"
and sitting in the shade.
Sunday, February 24. All the world dances to a different beat on a Sunday. This winter – until today – I had not heard the distinctive song of migrating tundra swans, a Sunday chorus from on high, a hundred soprano voices at once, singing "woo woo woo woo!" Weekdays are for the atonal music of pressing details, of making the money to meet payrolls, of running a family-owned service station. The song of the swans today was a dreamy musical reprise, a reminder of why we chose to be farmers: For the luxurious freedom of being outdoors.
And, naturally, this diary is filled with horses. Stallions, broodmares, colts, and fillies, and lots of them, grace the pages with their unique stories. A lifelong owner of horses myself, I was amazed at how much I didn't know, at how much this diary was able to teach me.
I was sad when the three years came to a close, but then remembered that Pons is also the author of Merryland: Two Years in the Life of a Racing Stable. I can't wait. But in the meantime, I highly recommend Country Life Diary for anyone interested in horses, breeding, nature, racing, and the country life of Harford County, Maryland.