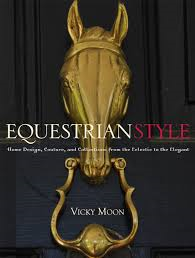 15 Jun

Book Review: Equestrian Style

Equestrian Style: Home Design, Couture, and Collections from the Eclectic to the Elegant by Vicky Moon, has been a significant part of my life since I received it last Christmas Eve. Such a wonderful gift from my sister-in-law!

An abundance of equestrian topics are brought to life in these chapters, which leave no stone unturned: In the Field, On the Farm, At the Track, In the Ring, On the Move, and Down the Road. I especially enjoyed the feature on Charles and Sherry Fenwick, who live in Worthington Valley, not too far from me over in Baltimore County. Charles, it should be noted, won riding in multiple steeplechases held throughout the world, among them the Maryland Hunt Cup (the most difficult in the world) and the Grand National in England.

This book sat on my dining room table for months while I read it, picking it up for ten minutes here and there to peruse the gorgeous photographs within. After a while, I realized that I had fallen madly in love with the horse head doorknocker pictured on the cover. A mission was born, and I prevailed (thanks ebay)! I now have this doorknocker on my back door – a constant reminder of the equestrian life I lead.

As much as I am biased for east coast equestrian style, this book touches on the décor, art, and fashion that lives throughout the country. A spread on a California couple's home was extravagant, as were the Florida farms also on display.

It should go without saying that I very highly recommend this book. I continue to page through it on a regular basis, and it is always at the forefront of my mind when designing and decorating my own equestrian home. With so much rich equestrian history right here in Maryland, I'm thinking of getting my own book together. The wheels in my head are turning!