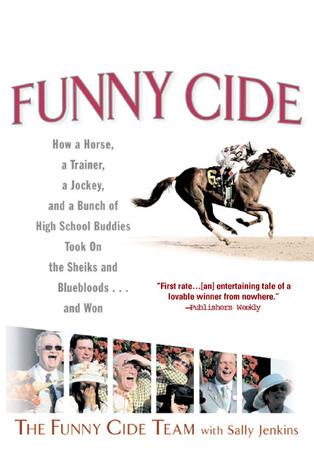 04 Aug

Book Review: Funny Cide

How a Horse, a Trainer, a Jockey, and a Bunch of High School Buddies Took on the Sheiks and Bluebloods…and Won

The story of Funny Cide, written by Sally Jenkins, is very reminiscent to the story of Seabiscuit: had this horse not found this particular trainer, these owners, and this jockey, he, most likely, would not have become the champion we know and love.

Funny Cide was a modestly-bred, New York-bred that was sold as a yearling for $22,000. He wasn't a bad looking horse, but he wasn't a head-turner either. He was just average.

Barclay Tagg, his trainer, wasn't one of the top trainers out there, but he had worked hard and was able to provide (albeit sometimes barely) for himself and his family. He had a few moderate wins under his belt, but nothing to write home about. He was just average.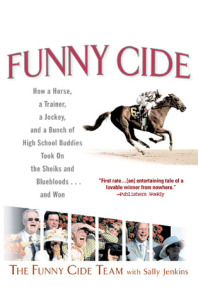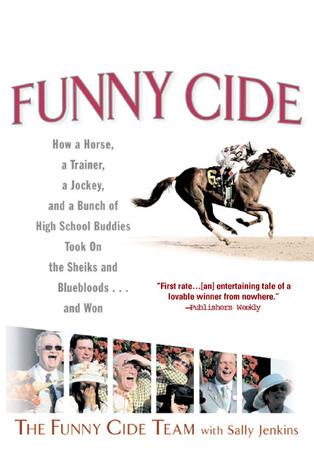 The owners, collectively known as 'Sackatoga Stable,' were a group of high school friends from the blue-collar town of Sackets Harbor, New York. They were new to the horseracing scene, and if they were honest with themselves, probably had no business being a part of it. They made decent livings for themselves, but there wasn't much leftover that could be spent on owning a racehorse. They were just – well, you get where I'm going with this.
And finally there was jockey Jose Santos, a jock who had some highs, but also, many, many lows. A jockey, who at the time this group came together, was in quite a bit of a slump.
Individually, each character was mediocre, but, like all great come-from-behind, underdog stories, together, there were the dream team! With Barclay at the helm, Funny Cide was treated like royalty, and Funny soon repaid his team with wins in the Kentucky Derby, Preakness Stakes, and a third in the Belmont Stakes. He missed the Triple Crown, but he gave each of his connections the thrill of a lifetime.
"Would Barclay trade his life for a more average one? No. At the racetrack, there was more of everything. More money, more failure, more tragedy, more exhilaration. If his life was tougher in some ways, it was also more concentrated. Win or lose, how many people had an opportunity to do something as fabulous as race for half a million dollars?
So Barclay continued to rise each morning at four-thirty and personally check the feet and tendons of every horse, no matter what their value, because in the end he was a sufferer of the sad but persistent belief that rewards should be the reflection of thoroughness and decency, and almost no amount of evidence to the contrary had shaken his nagging faith in the idea that the big horse could happen to him."
And that's exactly what happened.
This is a wonderful, relatively quick read for those who are interested in learning more about the great Funny Cide. I was able to see him in 2013 at the Kentucky Horse Park in the Hall of Champions, and he looked amazing!