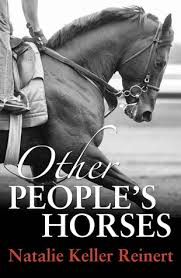 27 Jul

Book Review: Other People's Horses

I'm not sure how Natalie Keller Reinert and I became Facebook friends, but I think it was around the release of her first novel, "The Head and not the Heart," which also kind of coincided with the Retired Racehorse Training Project's first Trainer Challenge. Regardless, since then she and I have talked horses and books, and she's even been gracious enough to let me guest-blog on her famous Retired Racehorse Blog.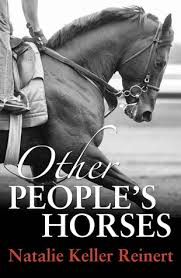 In January of this year, I was thrilled when she asked if I wanted to do an edit of her second novel, "Other People's Horses." She already had a copy-editor lined up, so mine would just be an overall does-the-plot-work final review. I was so excited to be getting a sneak-peak of her novel prior to publication!
What I liked best about the 2nd in this series is the progression, growth, and confidence I saw in Alex's character. As head trainer, Alex takes her horses to Saratoga for the summer, and what a wild ride it becomes. You will ride the wave with her as she faces her fair share of obstacles and nay-sayers, and you will celebrate her well-deserved victories. And for those equine-obsessed, you will get up close and personal with her racehorses, as well as the "other people's horses," in her care.
Horse people are critical. We can spot a faker a mile away. But since Reinert herself is a horse person, every scene is realistic, all terminology is correct.
Also, Reinert's prose is fantastic. She weaves the imagery of the sultry Saratoga summer together while realistically detailing the life of a young and ambitious horse trainer. The sentences in this novel are longer, more poetic than those of "The Head and not the Heart;" there is so much life in their details. The below sentence is an example of the type of description you'll experience throughout the book's entirety.
"He switched leads joyously, that precarious moment of skipping, flying airborne, without so much as being asked when we rounded the top of the stretch, and we went hammering down the lane into the orange morning light, the sun gleaming above the dark tree-studded ridge that humped down the middle of all these Florida horse farms, as hundreds and thousands of other riders on hundreds and thousands of other Thoroughbreds were doing right this moment right here in Ocala's horse country, and I thought that you never enjoyed your home so much as right before you left it."
This is a horseracing novel with just the right amount of everything: horses, conflict, romance, joy. You will root for Alex, and her newest filly, Luna, from the beginning.