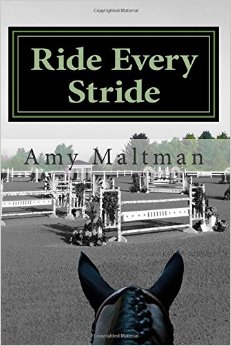 02 Jul

Book Review: Ride Every Stride

I recently finished reading Amy Maltman's Ride Every Stride, and it was truly divine. When I read the synopsis and learned that the main character was a male, I was intrigued. Most of the leads in horse books are females, so it was nice to have the other perspective for once!

When we meet eighteen year old runaway, Jed Carver, the reader is only given a small glimpse into his past, and it isn't pretty. With the death of both parents and the bruises and scars at the hand of an unloving uncle, Jed has already seen more than his fair share of pain and suffering. But he hitchhikes across Canada until he finally lands a job at a barn in Ontario where it comes to light that Jed is an exceptional rider with a talent few possess.

At this barn, an A Circuit Show Jumping barn, Jed meets all walks of life. He falls in and out of love, gets promoted, and excels on the jumper circuit. However, for every step forward he takes in life, two ugly secrets from his past seem to be revealed, and the reader's heart can't help but ache for Jed and root for him to succeed. And Jed is a fighter, through and through; he keeps pushing on even when things seem to be at the point of no return.

Personally, I enjoyed the setting of this book – Canada! I liked how there was a reference to one of my favorite sports – ice hockey – instead of my least favorite sport, football. (America, enough with the football. Get with it – hockey is where it's at)! Also, I love the usage of the word, eh. Finally, in Canada, first place in a horse show receives a red ribbon while blue ribbons signify second place. That definitely gave me pause at first, but then I remembered that reds equal first place for Canada and the UK. So interesting!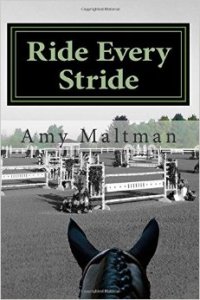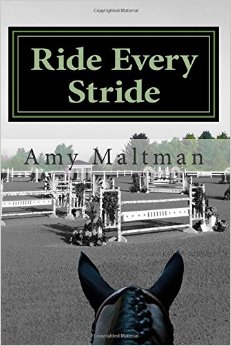 After finishing the book, I was able to catch up with author Amy Maltman, and she's pretty awesome! Please see our Q&A session below!
You seem very knowledgeable about the A Circuit Show Jumping world. Tell us a little about your equestrian background.
Thank you!
I started riding at the age of 9, got my first horse at 10, and began competing at 11. I was a nervous rider who preferred flatwork and hated showing, and I never competed on the A Circuit. However, I was always glued to show jumping coverage on TV.
After I graduated from the University of Guelph in 1997, I worked as a groom for Eric Lamaze and Ainsley Vince at Torrey Pines and lived in the apartment over the barn. I quit before show season, though.
In writing Ride Every Stride, I drew upon my experiences and observations as a spectator at the Royal Winter Fair (many times over), Spruce Meadows, and various A shows, plus my time at Torrey Pines. Also, in 2013, I recruited three fact checkers through an equestrian forum to check the manuscript's accuracy, including a lady who's an A Circuit judge and steward. (Thanks again, Susan, Christina, and Lauren)!
If you had a chance to change any part(s) within your book, would you? If so, what would it be?
It's already drastically different than the first draft, which I finished way back in 1998, and at this point in time I can't think of any further changes I want to make. Given time I'm sure that will change – especially if people find any errors! Then I'll beat myself up forever.
Who is your favorite character? Who do you relate to the most?
Jed is definitely my favorite character. In spite of everything he had to overcome, he maintained a good heart and has a great capacity for forgiveness. He also loves and is kind to the horses, appreciates everything he has, and gives credit where credit is due. In fact, I wish I could meet him in real life.
I relate most to Kayla. I actually based many aspects of her character on myself, including the vegan/plant-based diet and rescued animals.
What are you currently working on? Any chance Jed will return and your fans will see a sequel?
I do have ideas brewing for a sequel and perhaps even a prequel, but I'm also brainstorming a completely unrelated story set in a fantasy world. After so many years working on Ride Every Stride, I'm feeling more of a pull towards the fantasy idea as a change of pace. But you never know what might happen, especially if I start getting a lot of requests for a sequel sooner rather than later.
Finally, what do you like to do in your spare time?
To be honest, I don't do much even though I have nothing but spare time – I'm on permanent disability from my career as a pharmacist. I have a rare spinal cord disorder (Syringomyelia) that's resulted in two major neck surgeries and causes chronic, severe pain and constant fatigue. I sleep a lot, and I also have strict activity restrictions. The worst of it is not being allowed or able to ride anymore.
I usually don't feel well enough to do much more than watch TV, read, etc. That's part of why it took me so long to edit and publish Ride Every Stride. Outside of home, I enjoy walking my dog when I'm able, going to movies, and I have season tickets to the local Ontario Hockey League team.
~~~~~
If you are looking for a book that will keep you reading late into the night, then this is it! I highly recommend it – it's a great summer (or anytime) read!