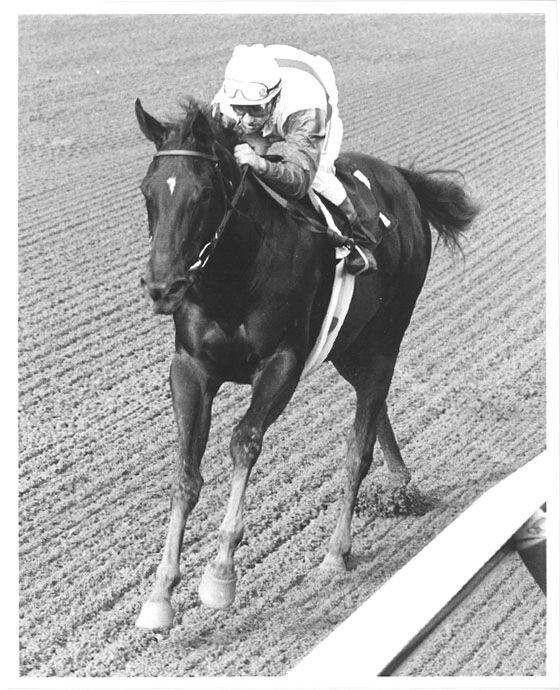 19 May

Book Review: Ruffian – Burning from the Start

"Girls can be ruffians, too!"

Wow – what a story. Last week I finished Jane Schwartz's Ruffian, and oh my, can you say tear-jerker? I was absolutely sobbing, as I knew I would be, by the end. However, even though it was a painful ending, the journey was well worth it.

We begin Ruffian's story, where else, but at the very beginning – her birth. She was owned by Stuart and Barbara Janney of Locust Hill Farm in Glyndon, Maryland, but Ruffian was born at Claiborne Farm in Paris, Kentucky, where the Janneys kept their top broodmares. Like Secretariat, Ruffian was up on her feet and off to the races, so to speak, almost immediately after being born. Already, she was something special.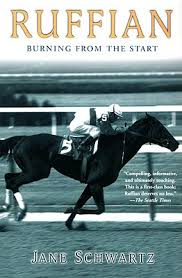 She was by Reviewer (by Bold Ruler out of Broadway) and out of Shenanigans (by Native Dancer out of Bold Irish), and from a young age she showed the maturity and professionalism for which her ancestors were famous. Initially, however, there were some questions about her name.
"Rudy asked a few questions about the race and then brought up the subject of the filly's name.
'Ruffian?' Mr. Janney glanced after the two-year-old as she disappeared into the tunnel. 'Well, we had initially reserved that name for a Rambunctious colt, one that I had bred. But we ended up selling that one early on. So, when the filly was born, we decided to go ahead and give it to her.'
'But I meant, why that name for a filly?'
Stuart Janney hesitated a moment, and his wife couldn't resist. She leaned over towards Billy Rudy and smiled. 'Girls can be ruffians, too, you know!'"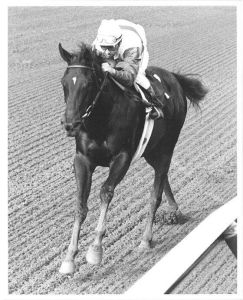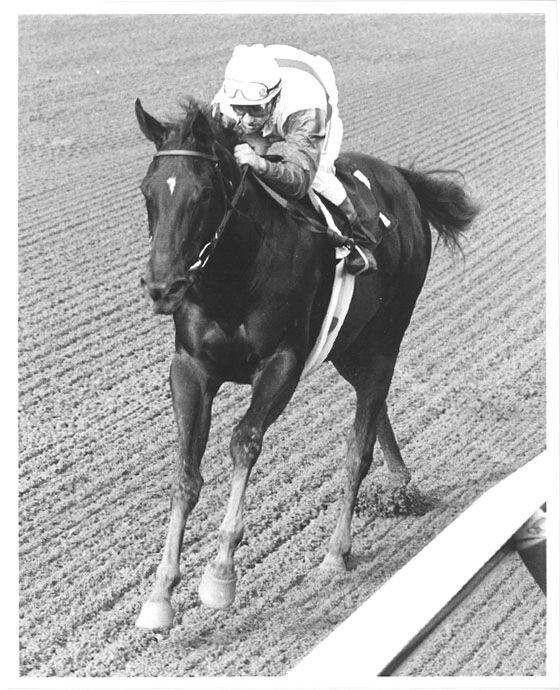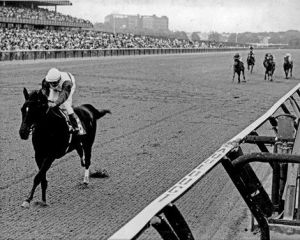 Ruffian went east for training and found herself in Frank Whitely's barn. Frank was no stranger to great horses having trained champions Tom Rolfe and Damascus prior to the big filly. But there was something different about Ruffian. She could run all day and not break a sweat. She'd easily pass other horses while just loping along, without ever being asked to truly run.
With that kind of talent, it wasn't surprising that she went into the Match Race against the Kentucky Derby winner, Foolish Pleasure, undefeated, perfect in 10 starts. And it was in the Match Race, while pulling decisively ahead of her competitor, that she shattered both sesamoid bones in her right foreleg. Jockey Jacinto Vasquez struggled to eventually pull her up, but not before she had tried to continue to run, to finish her race and beat the colt. Losing wasn't an option for her.
And it was later that night that we lost one of the greatest racehorses the world had ever seen.
"Record books didn't hold all the answers. In the end, no matter how astonishing their numbers, great horses were remembered for something more than numbers: It was a feeling that they gave you, a belief in something bigger than yourself. They were a reminder – if only for an instant – that some bright, wordless magic still existed in the world."