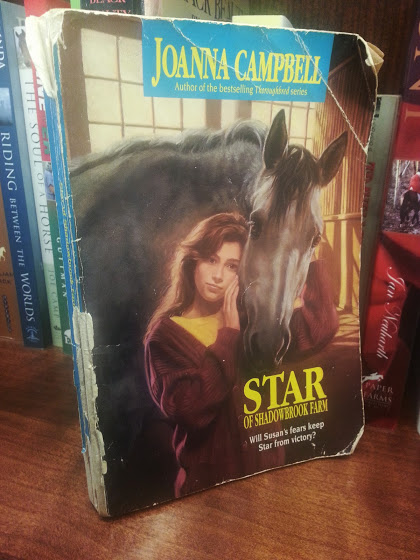 03 Feb

Book Review: Star of Shadowbrook Farm

I'm going to get a little sentimental with this post. I know I don't normally review pre-teen/teen reads, but I wanted to devote an entry to my all-time favorite childhood book. As a kid, of course, many horse books lined my shelves (Misty of Chincoteague, the Billy and Blaze series (a post on that later), as well as the Saddle Club series), but nothing seemed to come close to Star of Shadowbrook Farm.

In this book by Joanna Campbell (original author and creator of the Thoroughbred series – another favorite), we meet Susan Holmes. Shy, awkward, and incredibly tall for her age, Susan is a 9th grader who doesn't fit in. The only time she's happy and confident is when she's in the saddle of the horses on her parents' Shadowbrook Farm. When Susan has a terrible fall and is, for the first time in her life, afraid to ride, she feels as if her life is over.

I picked this book up when I was in 5th grade, I believe, and I wanted to be like, 'Susan, I get you.' I, too, was the tallest girl in class, skinny and awkward. But I, too, came alive around horses. I also had a scary fall when I was younger that resulted in a fear of riding that I, just like Susan, was able to overcome over time. When Susan finally regains her nerve and starts riding a beautiful grey Thoroughbred gelding named Star, I knew I would have a grey Thoroughbred one day. Misty, however, is not nearly as willing and reliable as the talented Star!

I used to read this book over and over again. When I was having a bad day, I knew I could pick it up and slip away into my safe place. Horses – they were always my safe place and still are.

Below is a picture of my tattered copy. As you can see, it's definitely seen lots of love! It sits on my bookshelf in a very special place of honor, and you probably won't be surprised to learn that I reread it again just last month. #dontjudge

This book was my constant companion for many years, so of course I highly recommend it.