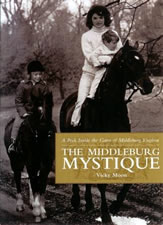 19 Nov

Book Review: The Middleburg Mystique

I have an obsession for places that are completely devoted to horses. My most favorite place in the world, (which even trumps Disney World), is Lexington, Kentucky. I also love Saratoga, New York, and have plans to visit both Wellington and Ocala, Florida. Middleburg, Virginia was an easy location to check off my list as it's only about two hours south of my home in northeast Maryland.

The Middleburg Mystique, by Vicky Moon (author of Equestrian Style), does a superb job describing this very elite section of hunt country. The book is broken up into 14 chapters such as, "Fame and Fortune," "Style," "Horse Tales," "A Year in the Life of Middleburg," and "Never a Dull Moment."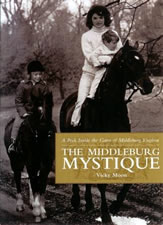 Moon paints a very distinct picture of this area of northern Virginia. Two descriptors for the residents here are, wealthy and equestrian. These people are passionate about foxhunting and other outdoor sports, as well as preserving the countryside through easements. They do everything in their power to keep Middleburg from changing, and I love that. No one hates change more than Middleburg…and me.
If you visited Middleburg fifty years ago, and then drove through again just last week, it would look much the same. It has that back-in-time feel that is so desirable. There are no convenience stores and developments. Neighbors are even discouraged from using a lot of outdoor lighting. After all, this is the country!
Moon elaborately tells of famous residents, such as the Kennedys and Liz Taylor, but also touches on a variety of scandals that have rocked this town. This book is a must-read for anyone wanting to learn more about this posh equestrian community, and it inspired me to visit back in October. I found the residents I spoke with to be charming and accommodating, and I enjoyed my small peek into their very affluent, horse-centric lives!