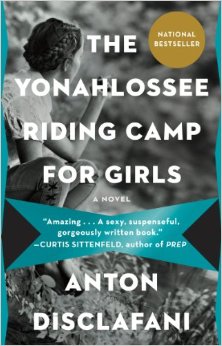 18 Sep

Book Review: The Yonahlossee Riding Camp for Girls

Earlier this summer I finished Anton DiSclafani's debut novel, The Yonahlossee Riding Camp for Girls. Other than not knowing how to pronounce the title, and a little bit of weirdness toward the end, this book was an absolute page-turner.

When we meet Thea Atwell, she is being dropped off at Yonahlossee by her father. We learn that she has done something terrible to her family, something that has made them want to ship her off to this riding camp in North Carolina (which is really a boarding school), miles away from the only home she's ever known.

While she is heartbroken to be away from her parents, twin brother, and sprawling Florida farm, she makes friends quickly and excels in the riding program. She is paired with Naari, a young mare who is just as spirited as she. On the outside, Thea appears lovely and content, but she is torn up over what she did to "ruin" her family.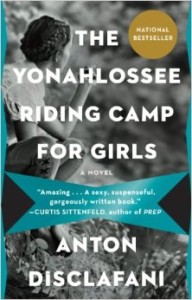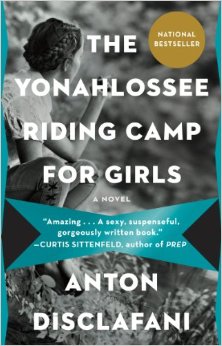 And this is where things get a little weird. Not weird enough to put the book back on its shelf, never to be read again, but strange enough to make you feel a bit icky. But still – it's a page-turner.
The story ends semi-well, but it is far from happily ever after. It definitely makes you think though, how one simple act, one mistake, can set the ball rolling, launching a series of events into life. And in a blink of an eye, everything has changed, and there's nothing that can be done about it.
This novel feels very real. It's set in the 1930s, and DiSclafani gives the reader a true sense of life during The Great Depression, and while there are some tough moments, the plot seems realistic given Thea's upbringing. I would recommend this book; it's easy to see why it became a National Bestseller. Some favorite quotes are below.
"When I sat at my dressing table, I straddled my chair like I was riding. I was riding, even when I wasn't, a horse was always in my head. I spent at most two hours a day on a horse, the rest on the ground like a girl, but even so, when I walked on my own two feet my gait was vaguely, constantly unsettling, as if I were always stepping onto dry ground from a ship."
"And I felt near tears again, inexplicably. I placed my other palm on Naari's broad forehead. It would be as if I had died, once my scent disappeared, once she learned to stop expecting the sound of my boots against the floor in the afternoons, once she became used to the noises and smells of another girl. But I would always remember my first horse. I would never forget."
"But what would future girls see when they looked at the photograph during their daily comings and goings, peered closely? Not the shade of my hair, rendered colorless by the photograph. Not Mr. Holmes, who stood beyond the frame. Not anything, really. Just a girl on a horse, like so many other girls."