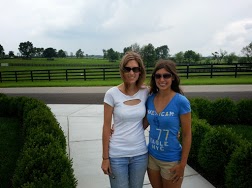 14 Jul

Bourbon Chocolates and WinStar Farm

Our first full day in Kentucky, Monday, dawned a little cloudy, but warm. We woke to missing parents as they had gone to drop the truck off at a local Chevrolet dealer about 10 minutes down the road in Georgetown; we were staying at Elk Horn Campground in Frankfort.

I'm not sure if this is considered embarrassing or not, but prior to the trip, I had created a powerpoint presentation with a daily agenda. As I had been to Lexington before, I felt the need to act as tour guide! So I gathered requests (mostly visiting stud farms and bourbon factories) and created a schedule of events. I titled it: Lexington, Kentucky: The Trip of a Lifetime. I really did.

Anyway, we didn't have anything too concrete planned for the morning, so we decided to be all spontaneous and went to the local candy store called Rebecca Ruth's. They actually gave a short tour of the factory as everything is prepared, boxed, and shipped onsite. Pretty cool! Ruth Hanly Booe was the originator of the first chocolate bourbon ball, now a staple in the bluegrass region, and they are delicious! I think my favorite, however, is the mint julep bourbon ball because it doesn't taste as strong. And I like mint.

This tour was followed by one of a much grander scale; off we went to WinStar Farm! We were able to tour the main stud barn and have meet and greets (no touching though) with Tiznow, Drosselmeyer, Gemologist, Bodemeister, Distorted Humor, and Pioneerofthenile. And, of course, no farm tour is complete without a visit to the breeding shed!

The tour lasted almost an hour, and since we were close to Keeneland Racetrack, we drove over to check out the track (there were no meets though) and browse in the gift shop. The weather was strange and alternated between sprinkling on us to splashing us with immense amounts of sunshine, but it didn't stop us from doing anything we wanted. And it better not have – this was our Trip of a Lifetime!

In my next post, I'll write about our dinner experience at one of the coolest restaurants in downtown Lexington!