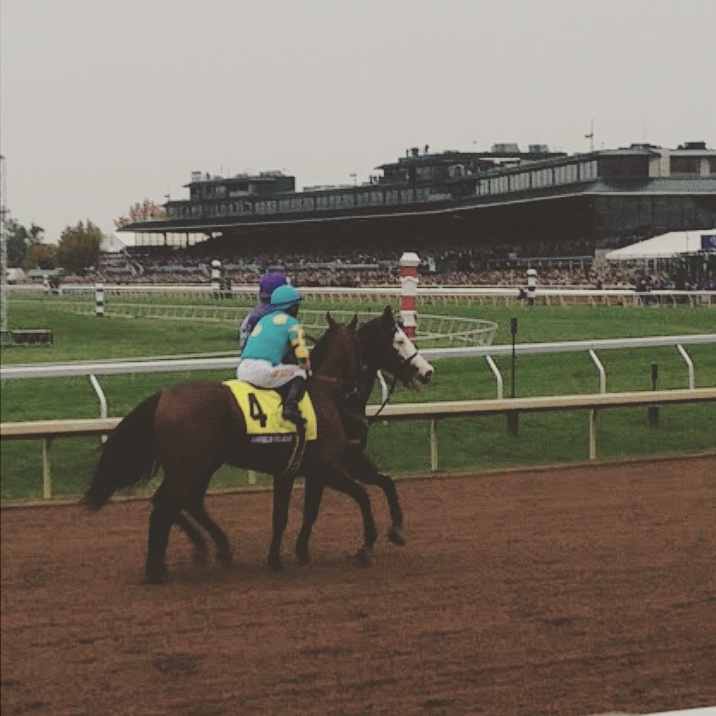 21 Dec

Breeder's Cup – Saturday

Saturday was Classic day, and since we had the issue in the Bourbon Lounge the day before, we decided to arrive at Keeneland bright and early. Thankfully, we were able to snag a nice table in the corner, away from all the hustle and bustle.

The day was relatively grey and dreary with sprinkles on and off, but that didn't stop us from walking out to the track periodically to see the races in person. I especially enjoyed the Juvenile Fillies; I was rooting for Rachel's Valentina because I was a huge fan of her mama, Rachel Alexandra, but she was bested by super-filly, Songbird. This was a long race for Rachel's Valentina who had never run around both turns before. She hung on for a game second. I was really hoping that Songbird would hit the Triple Crown trail next year, but I read recently that her connections are pointing her towards the Oaks instead of the Derby – bummer!

Before I knew it, it was time for the main event – the Classic – and all eyes were on American Pharoah. About an hour prior to the race, we staked out a nice position along the rail. There was one row of people already stationed in front, but thankfully, I'm tall, so I had no problem seeing over them. We were at the top of the final turn, so we were able to see all the horses warm up prior to being loaded in the starting gate. American Pharoah cantered by us four times and each time, everyone cheered!

To say he is a magnificent animal is an understatement. He is perfection – the true definition of a champion racehorse. Victor Espinoza looked towards us a few times and nodded and waved. Win or lose, Victor is always a true professional, and I really admire him.

From our position, we could see the starting gate, a large TV screen where we could follow the race as the horses were on the far side of the track, and then the final turn. When AP broke well and went right to the front, I knew he stood a great chance of winning. He was relaxed, his ears were pricked forward, and he was just loping along like it was no big deal. When he came around the final turn, I kid you not, he was FLYING – and he wasn't even at full speed yet! The entire pack was here and gone so fast!

As he turned for home and then raced his way to the wire, we were all jumping up and down, screaming at the top of our lungs, and hugging each other! I even turned to James at one point and told him I thought I was going to pass out!

It was such a wonderful, momentous experience, and I am so happy and grateful to have witnessed it in person. This horse has given us racing fans so very much – more than we deserved – and I will always remember watching him streak around that final turn like a dark bay bolt of lightning, heading for the wire, for greatness, for immortality.

(Top picture: me and my sister; Middle: James took this one; Bottom: the couple we shared our table with took this one).