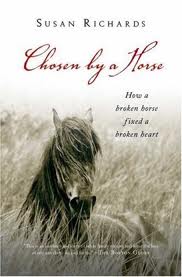 20 Oct

Chosen by Author Susan Richards

"I am someone who is meant to love horses."

I feel like I have lived with author Susan Richards for a few years now. When I picked up her first memoir in 2006, Chosen by a Horse, I was an instant fan. In the subsequent years, she has dazzled me with two more memoirs, Chosen Forever, and Saddled. I quoted Susan fairly extensively (from Chosen by a Horse) in a paper I wrote for graduate school, and I reviewed Saddled in this blog. At this point, I have read each book twice and have officially fallen in love with the memoir genre.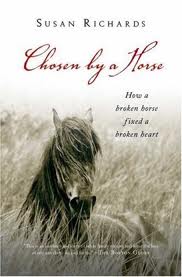 Susan and I share a lot of similarities that go beyond our love for horses. We are writers. We had…interesting childhoods. We like to be alone, yet always enjoy ourselves when we venture out with friends. We taught English at local community colleges. We married photographers. And we overanalyze everything.
Part of what makes a book good, for me, is the ability to relate to the main character. In this case, since Susan writes memoirs, she is the main character. When I read her work, it's so easy for me to slip into her life; it's easy for me to imagine that I'm living in a house in upstate New York, looking outside at my grazing horses, and writing at my desk in the early morning hours. I, too, would surround myself with a variety of dogs and cats that I would allow to sleep with me at night.
When I read Susan's books and she reveals the details of her horses and her farm, I feel safe. There's something safe about a life so easy and simple. Just country and nature and horses and books. It's a life I'm desperate to live. My husband and I are on the search for a little farm in Baltimore County, and I hope it's as peaceful as Susan's, even though it'll be a few states south. One day I hope to be able to devote all of my time to horses and writing. I want to "piddle," as I call it; I want to volunteer at a horse rescue, do ride-alongs with my vet to learn even more about these wonderful creatures. I want to try my hand at writing a novel, a memoir, and a book of poems. I want time to do all these things.
In Susan's first book, Chosen by a Horse, we meet Lay Me Down, a retired Standardbred racer who had been neglected and abused. After Susan takes her in, she discovers that Lay Me Down is an angel, a truly sweet mare. And this mare changes Susan. Lay Me Down hasn't had an easy life by any means, yet she is always pleasant and trusting. She becomes an inspiration to her human caretaker.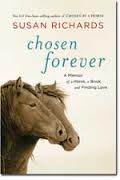 I'm hoping to one day meet my Lay Me Down. Instead, I have my Georgia. Georgia was Susan's Morgan mare, a true diva. Fiesty, spunky, and pushy, that was Georgia. I have this exact horse in Misty, my sassy girl. Misty never hesitates to tell me how she feels in any situation. She's an open book, and I can't imagine my life without her.
In Chosen Forever, Susan tells us about the process of publishing her memoir, Chosen by a Horse. Since I hope to one day be published myself, this book was fascinating to me. Of course, we are also regaled of more stories surrounding her beautiful horses, who have all passed at this point in Susan's life. It is also in this book that we meet Dennis Stock, a handsome and determined man who is to become Susan's husband.
Below are two quotes from Chosen Forever. It's easy to see why I can relate so well with Susan…horses are our everything.
"The morning after Georgia died I woke up and I didn't know who I was. During the twenty years she'd lived under my care, I was unaware of how much she had slowly become the defining symbol of my identity, of what my life represented. If I had to name just one thing, one essential truth about myself, to this day, it would be Georgia. She was, and remains still, the great love of my life. Not that she reciprocated it, but that never mattered to me. It was enough that I loved her, that her enormous, often difficult personality filled my heart every time I looked at her."
"And just like that, horses were back in my life. Beginning that day, I started to remember who I was. I emailed my brother to tell him. 'I finally understand who I am, what my purpose in life really is. I have been put here to take care of horses. I am someone who is meant to love horses.'"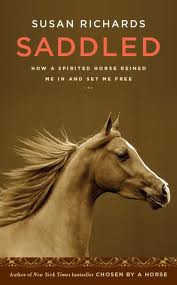 These quotes speak volumes to me. Misty, like Georgia, is often difficult. She has a huge, sometimes not so loving, personality. But we are so alike…one in horse form, one human…and mirror one another perfectly. Even though I've only been her mom for 4 years, I believe we define each other, my sassy grey.
And I, too, am someone who is meant to love horses. While I may still change my mind (although now at 30, I doubt it), I don't believe I want children. I've never imagined myself as a mom – just can't quite fathom it. And while my friends have surrounded themselves with their children, it makes me look inward and wonder if there's something wrong with me because I don't want kids, don't want to follow their paths. I've even been told that I'm "not normal" and that it's "unnatural for a woman not to want babies." But here I am.
But then I read this quote and think, yes, this is me. This is why I'm here. "I am someone who is meant to love horses." And whether or not anyone sympathizes or understands, this is my purpose.
I can't wait for Susan Richards' next memoir to hit the shelves as she has always helped me to figure out who I am.