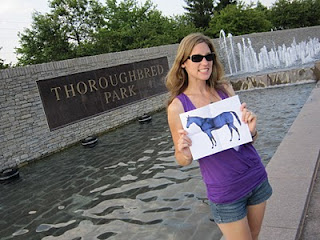 18 Feb

Downtown with Big Lex
On the visitlex.com site, you can print out a picture ofLexington, the first great American racehorse. They give you a list of historical/hot spots to visit, and if you take a picture of yourself at the hot spot holding Lexington ("Big Lex"), you can email all the pictures back to the Visitor's Center and they'll send you a prize. It's a way cool horsey scavenger hunt!
I had great intentions to visit all 10 sites, but failed. I think I made it to about three.
Anyway, armed with Big Lex, we made our way into downtown Lexington. Downtown is hard to describe – they have two or three small high-rise buildings and an arena/civic center. Some of the houses are beautiful Victorians with incredible architecture, and some are just, crap…and they're mixed together like that side-by-side. Transylvania University is located downtown and has a very pretty campus – though all I could think about were vampires and the Twilight series. (I'm totally Team Jacob).
First we stopped at Thoroughbred Park, one of the hot spots. There are a bunch of racehorse statutes throughout the park, and plaques commemorating important people of Lexington. One was Elizabeth Arden – interesting!
I was getting ready to whip out my picture of Big Lex and to pose like a dork in front of the sign when a bum comes over and asks me for money! Are you serious?! I'm in Lexington, Kentucky– the Horse Capital of the World! This is my Mecca! Bums are not allowed in Mecca! Bums are not allowed in my horse world! What is this!?
The bum asks me if I have any cash I could spare. I wanted to shout, "Am I still in Baltimore? No I don't have any cash! Get away from me!" Instead, being from Baltimore and having experienced my fair share of bum encounters, I say, "Sorry, I don't carry cash." And this is true…that's what debit cards are for.
Euphoric horse high – gone!
We get back in the car and I have absolutely no desire to continue with the Big Lex scavenger hunt and risk more bum sightings. My sweet husband can see I'm about to lose it, so we head out of scary, bum-infected downtown and west into Versailles – true horse country!
Now this is a little more like it! Each farm is comprised of hundreds of acres. All of the pastures are perfectly manicured, the fences are beautifully painted and maintained – the barns – wow! I could easily live in one of them as a human and have absolutely no qualms about my lifestyle.
Now that I have seen what a horse farm should look like, all Maryland farms have been tainted. I can still recognize beautiful property when I see it, but I'll always think about those idyllic Kentucky horse havens.