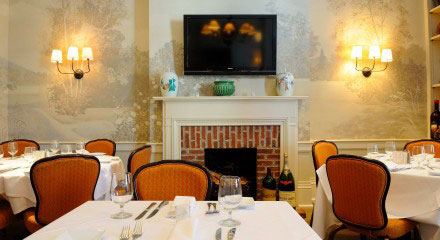 02 Dec

Dudley's On Short

Dudley's On Short, a restaurant located in downtown Lexington, was recommended (by readers via the annual Gold List) in Equestrian Quarterly Magazine, so it was on my list of places to eat. Of course, we waited until the day of to make reservations, and with so many people in town for Breeder's Cup, we were stuck with the 5:30 or bust.

So we took the 5:30 because we didn't want to miss out on this one!

As you would expect, the restaurant is decked out in equestrian décor, and the lighting is low and soft, perfect for a romantic date for two…or six, as it was for us! We had a wonderful corner table and were able to take in all of the surroundings. We knew we were in the right place when our waiter told us that the Zayats, (American Pharoah's owners), had dined there for the previous two nights!

And speaking of, I can say, without a shadow of a doubt, that our waiter was the best we've ever had at any restaurant – period. Phenomenal is an understatement. He was able to make the best recommendations, was very attentive, and was extremely knowledgeable about my gluten free options, (which were many)! He was just the right combination of friendly and chatty without overdoing it. He needs to move to Maryland ASAP!

The six of us started with drinks and apps. The cocktail specials were great, and the boys liked that they were heavy on the bourbon! I had oysters as my starter, and my sister enjoyed her calamari. Being a plain jane, I opted for the roasted chicken for my entrée, but there was nothing plain about it! The chicken was tender and seasoned perfectly on a bed of mashed potatoes.

We skipped dessert because we were all way too full, but I did notice some seasonal pumpkin-flavored treats on the menu!

If you are planning a trip to Lexington, Dudley's On Short should make the shortlist!