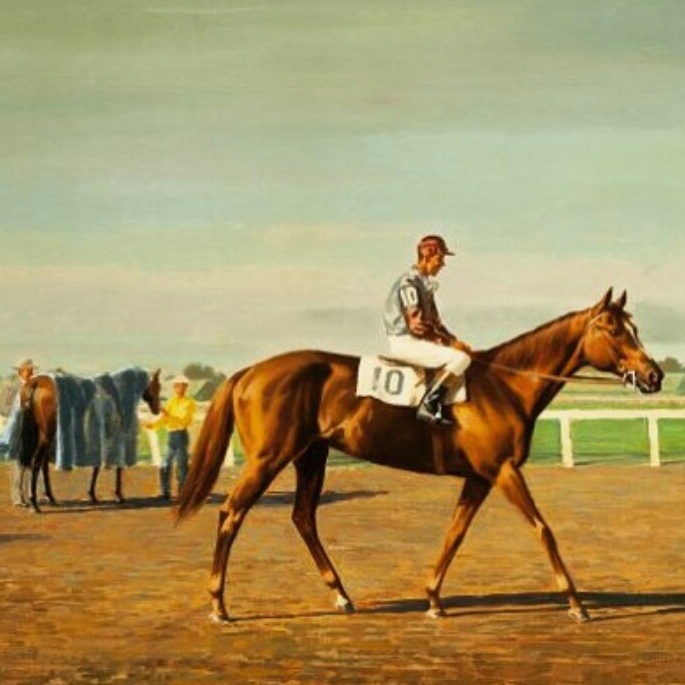 14 Aug

Equestrian Artist – Milton Menasco

Instagram has opened up a whole new world for me since I joined last October. Shortly thereafter, I found @miltonmenasco, and instantly fell in love with all of the account owner's equestrian posts, particularly the pictures of artist Milton Menasco's horse portraiture.

After about nine months of 'liking' virtually every single picture, I reached out the account owner to learn a bit more about her and her relationship with the late equestrian artist, Menasco. It turns out that the account is run by Menasco's great-grandniece, Alli Addison. I will be working with Alli to bring you multiple entries about one of the most amazing equestrian artists of all time.

But first, a little bit of background!

Menasco was born in 1890 in Los Angeles, and began his career as an artist in Hollywood creating movie posters. He was later commissioned to do mural paintings at the Palace of Fine Arts in San Francisco for the World's Fair in 1915. By 1925, Menasco found himself in New York City as the art director of a film making company. He also painted portraits and water colors of horses and ships which he sold to a variety of local galleries.

And here's where things really get going (for us horse-obsessed)!

"After the war, Menasco moved to Kentucky to devote himself entirely to his real love, horse portraiture. He and his wife purchased a farm where an old brick house built in the 18th century served for many years as his studio."

Well, that sounds like heaven to me!

Menasco began to make a name for himself as an equestrian artist, and he had numerous clients including, John Hay Whitney, Isabel Dodge Sloane, President Ronald Reagan, Allaire du Pont, Arthur B. Hancock, Jr., Lucille Markey, and the Chenery family, for whom he painted Secretariat. You may also know him as the artist whose illustrations appear on the covers of the Black Stallion series!

"In 1953, Menasco painted the famous broodmare La Troienne in a work entitled, "La Troienne and Her Foals: Eighteen Vignettes and One Painting Together in One Frame" for John Whitney. The painting was exhibited at the New York Metropolitan Museum of Art and the National Museum of Racing and Hall of Fame in Saratoga Springs, New York. In 1999, it sold from the estate of Betsey Cushing Roosevelt Whitney through Sotheby's auction house for $120,000."

Menasco died in 1974 of a heart attack at his farm in Versailles, Kentucky.

*~*~*~*

Stay tuned for more posts about the famous and incredibly talented, Milton Menasco! And a special thanks to Alli Addison for agreeing to partner with Maryland Equestrian to showcase his astounding art!