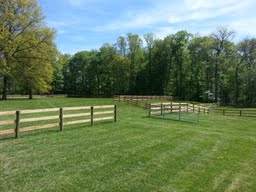 08 May

Fence Raising Party!

We've been having pretty regular fence raising parties for close to a month now. We are fencing in approximately 3.5 acres of property with a three board horse fence, as well as a smaller picket fenced section for my dog. It's been quite a project!

First, we rented the post pounder machine; I'm sure it probably has a proper name, but we called it the post pounder machine and that was that. It hooked up to the back of a truck, and we drove it all over the farm, pounding the posts straight into the ground instead of having to dig a hole. This worked pretty well, or at least it appeared to. I wasn't actually enlisted to help with this and watched from a distance – haha! The boys had a nice system going and worked intermittently to complete the post pounding in about two weeks.

Then came the fence boards. Again, I wasn't asked to help; they said I was helping by staying out of the way. Works for me! My mom, sister, and I were put on picket fence duty, so we sanded/primed/painted pickets and put them up. We did an excellent job if I do say so myself!

The boards are actually going up pretty quickly – it's so cool to watch the farm come together. It looks like a real horse farm now! We have many more things to accomplish (like filling holes with dirt, buying stall gates, and ordering a run-in), but it looks like the horses will be here in about a month! I can't wait to look outside my windows and see Misty grazing with her BFF, Komie!

Oh – and I guess I should define the word "party" in the title. These aren't fun and games parties…more like working parties…so more like not really parties at all. Just get-togethers where I provide my helpers with breakfast and/or lunch and/or dinner. Sounds like a good time, right?