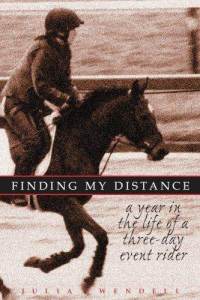 04 Apr

Book Review: Finding My Distance

Find Your Rhythm in Finding My Distance

Julia Wendell's Finding My Distance – a Year in the Life of a Three-Day Event Rider, is a memoir that hits you straight in the heart. Readers will relate to Julia whether or not they're event riders, whether or not they're even horse people. Everyone can relate to hardship, depression, and the joy in victory at last.

Julia's story begins on December 1st during the bleakness that is winter in Maryland. She sees us through the holidays, a time when life on the farm slows slightly, and then we pack up and ship south to Aiken, South Carolina.

In Aiken, we find competitions, clay roads, lucky breaks, and death. I cried when we lose Houston, a stunning dapple grey, to a shattered pastern. But I laugh and shake my head when Jerry the Racehorse flies over the cross country jumps like a seasoned pro.

Yet, when Julia and her husband, Barrett, return home to Maryland, I sigh with relief. I want them to return safely and tuck themselves back into their normal lives and routines like, as a Maryland girl, I know exactly how to do.

Littered throughout the prose is previously published poetry, poignantly ending one raw chapter after another. These poems are a perfect way to stop the reader, reminding her that life is unpredictable, uncontained.

Back home in Upperco on An Otherwise Perfect Farm, (the name is a throw back to her first collection of poetry, An Otherwise Perfect History, not a reference to the farm's hilltop perch and windy conditions…well, maybe both), Julia gets down to business riding more horses in one day than my leg muscles could fathom.

Julia leaves no stone unturned as she remembers her life before event riding, works alongside her fellow horse-loving husband, and second guesses her parenting techniques. True horse lovers will wonder why daughter Caitlin chooses the hustle and bustle of New York City over the tranquility that is her mother's farm, yet we admire Julia for giving her daughter wings. Globe trotters will turn green with envy as her son, John, prepares for his extended stay in India.

But it's Fair Hill that really gets us going – will she and her superstar horse, Redmond, make it to the CCI*** event that October? I found myself biting my nails as Barrett agonizingly counts down to the event, ticking the days off on a dry-erase board in the barn…10, 9, 8…

When she and Redmond prove themselves against some of the country's brightest stars, we, too, can taste victory: pure, raw, and sweet.

This is a memoir about life and how it can come devastatingly hard and fast, and Julia teaches us a lesson about how to find our own rhythm and take every day in stride. With every stride, we can overcome the bad; with every stride, we can get there.