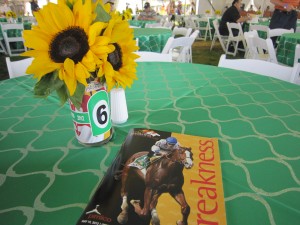 30 May

Get Your Preak On

Get Your Preak On was the slogan for Preakness in 2010…I thought it rocked. They should bring it back, and kick Kegasus to the curb.

Anyway, I attended my 5th Preakness this year and had the best time. As mentioned in a previous post, I attended Black Eyed Susan Day the day before, so I was totally pumped by the time my friends arrived to pick me up for Preakness. We managed to get there in record time, surprisingly, and made our way to the Turfside Terrace again by 9:30/10:00.

If you live in the Baltimore area and have never attended Preakness, shame on you. If the weather is on your side, there's no better place to be. In the Terrace, we had the luxury of perfect views of the turf and dirt tracks, yet we could still hear the thumping of Wiz Khalifa and Maroon Five performing in the infield. Preakness is all Baltimore – a 137 year old tradition mixed with wild and crazy…the best of both worlds. I just kept saying, "I love this day."

Personally, I think the Preakness is the best of the Triple Crown races. I know I'm biased because I'm from Baltimore…and I know I've never been to the Kentucky Derby or the Belmont, but the Preakness has so much to offer. At the Derby, you have this tremendous field of super talented 3 year olds…and everything is totally up in the air. Everyone has a different favorite.

But at Preakness, you already have your eye on one horse – the Derby winner. At the start of Preakness, the possibility of a Triple Crown winner is very, very real. There is a feeling of hope in the air – everyone is rooting for the Derby winner to make it 2 for 2. And quite honestly, there is nothing like standing at the finish line during a Triple Crown race on a beautiful day in Baltimore when the Derby winner comes flying down the stretch, fighting for the lead. Lover of horses/horseracing or not, you can't help but catch the excitement. It's truly a magical experience.

I was just behind the finish line when I'll Have Another and Bodemeister came pounding down, neck and neck. We thought I'll Have Another captured it, but we couldn't quite tell until we saw the replay on the jumbo-tron about 20 seconds later. Again, we cheered and screamed and jumped up and down. He had done it! On to Belmont!

The atmosphere at Belmont has to be riddled with tense excitement on the day in which Triple Crown history could be made…but this doesn't happen every year. If there's no shot at a Triple Crown, Belmont seems to lose its luster. I can tell you the names of every single Derby and Preakness winner from the last 15 years…but Belmont? I can't remember who won last year.

This is why Preakness is the best. Even if the Derby winner loses, it's okay because then he wasn't that close. Losing the Triple Crown in the Preakness isn't nearly as heartbreaking as losing it in the Belmont.

Regardless, I'm SO excited for I'll Have Another! There hasn't been a Triple Crown winner in my lifetime, so I'm just dying to see one! I'll be watching on June 9th, crossing fingers tightly that history will be made. But even if I'll Have Another doesn't capture the crown, he's given us three more weeks of hope, and for that, I thank him.