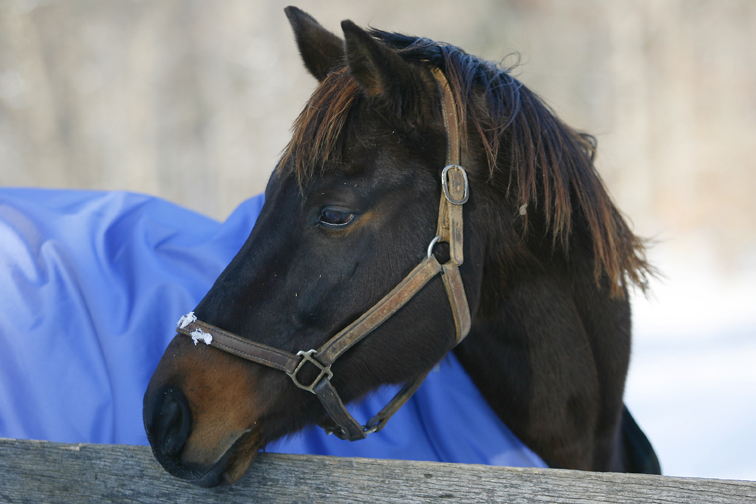 15 Nov

He's a Patriot and Jack of All Trades

It's been a while since I introduced the other members of our herd. You may remember Takoma Star, Misty's BFF, and Traveller, our feisty Arabian, but there are two others who make up our family herd: Jack and Patriot.

Jack is a 12 year old OTTB who belongs to my mom. I call him Jack of All Trades and she calls him Jackson Brown, but since they do not show (or, at least, haven't yet), it doesn't matter as he still comes when he's called!

Mom purchased Jack from a private seller in October of 2009. Since then, she's worked with two different trainers who've helped her transform Jack into a Western trail horse. When Jack's previous owner first saw him, he was neglected and quite under weight. She fattened him up, started him back to work, and then put him on craigslist – and the rest is history.

Jack is a semi-nervous horse, but he's not spooky, if that makes sense! As long as his rider sits tall and calm, then he's all good. He's now neck-reining like a pro and is just a big, loving teddy bear. And he's also Misty's husband. They used to live together, but Jack would sometimes be too difficult if taken away from Misty (not that she cared…she never even answered his desperate calls), so we separated the mares and the geldings. It was just best for everyone. But Jack is just a good all-around horse who enjoys his job!

And then there's Patriot – my sister Kim's adorable Quarter Horse. Kim grew up riding, but never really loved it; it was just something to do. She actually loves cats the way I love horses! But Kim has always enjoyed being around horses even if she wasn't actively riding or taking lessons.

When she graduated from college last spring, she came home one day and told my mom that she wanted to buy a horse. This came as quite a shock to everyone as she had never mentioned horse ownership before. But before we knew it, she had done some research online and we were on the horse hunt!

When we met Patriot, aka "Pooh Bear," as I like to call him, we knew he was perfect for Kim as he stopped on a dime and had a very quiet and happy little demeanor. He's just a sweetheart, a good-natured fella. He's 5 now and he and Kim have developed quite the partnership already! They are training with a hunter instructor and doing very well! I'm hoping to talk her (and my mom!) into doing some shows next year!

So this rounds out the family herd. Each horse has his/her own story, personality, and specialty. Komie is the wise matriarch; Misty is the spoiled diva; Traveller is the silly, grouchy old man; Jack is Mr. Dependable; and Patriot is as happy-go-lucky as they come. I love all my guys!