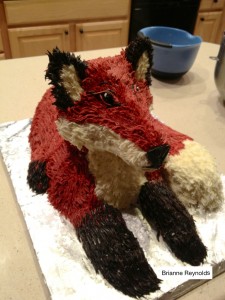 14 Mar

Hey Foxy!

If you read this post, you would have learned about the special place in my heart strictly devoted to foxes. I love them and their cute faces and their bushy tails. So when I saw this picture from my new friend Brianne, I knew I had to blog about it!

Brianne is very artistic and creative. She, too, is obsessed with horse show ribbons and has made all kinds of shadow boxes, quilts, and purses (yes – purses!!) in which to display her awards. But you'll see those in another post. This one is devoted to The Fox Cake.

A full-time employee for a catering company in Annapolis, Brianne makes wedding, specialty, and dessert cakes. And fox cakes. Isn't this just spectacular!? I absolutely love this cake…just look at those sweet eyes! The fox itself was made from pound cake while the head was molded into shape with rice krispies.

Brianne has already agreed to recreate this fox later this year for my 30th (shudder) birthday in September! Thanks, Brianne, for letting me share your masterpiece!