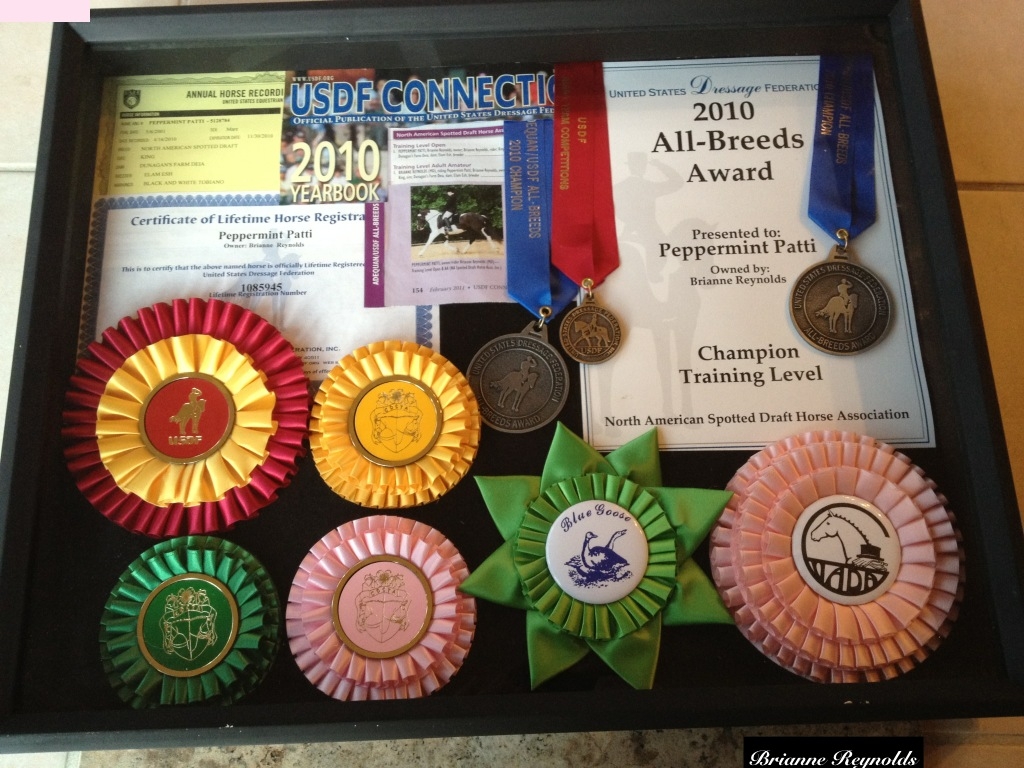 28 Aug

Hopelessly Devoted to Ribbons – Part III

You all know from these posts (here and here) that I love horse show ribbons and ribbon displays. If you do as well, then keep reading!

Today's pictures come from my friend Brianne whom we first met in the awesome fox cake post. After seeing that cake, it comes as no surprise that Brianne is a very creative person, and as you can see below, she certainly has a way with ribbons!

The first picture is a shadow box she created to showcase she and her mare, Peppermint Patti's, accomplishments in 2010.

"In 2010 I competed at USDF recognized shows to earn our All-Breeds Award. My mare is a registered North American Spotted Draft Horse, and she was the only one in the country to compete at recognized dressage shows. We got our picture in the USDF Yearbook with the other winners when they listed the All-Breed Awards and other year end awards. So I made this shadowbox to hold her medals, her award certificate, our listing and photo in the yearbook, her registration for USDF and USEF, and the ribbon rosettes from the recognized shows. Some of those classes were quite large; there were a few times that we didn't pin at all, so I really cherished when we actually came home with a ribbon! Especially when we were competing against some well-bred Warmbloods! I hated taking the tails off the ribbons, but I was having trouble fitting it into the box. I saved the ribbon tails and one day hope to get around to making my own quilt or purse."

The following pictures show a ribbon quilt and a purse in the making…and then the final products. She made these as Christmas presents for her best friend!

Thanks, Brianne, for sending the pictures and for contributing to my ribbon obsession…glad to see I'm not the only person hopelessly devoted to them!

How do you display your horse show ribbons? Please send any pictures my way; I'd love to see them (and maybe do a post about them)!