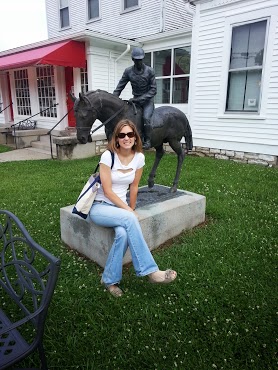 12 Jul

Kentucky Bound!

About a year ago we started planning our second trip to Kentucky; this time my parents, sister, Kim, and future brother-in-law, Kyle, would join us. I'm going to break the trip down into multiple blog entries like I did last time we went (which was three years ago – time DOES fly!), and this post is all about the trip out there.

Last time our 8 hour drive was pretty uneventful. James and I had great weather and made good time, leaving Baltimore around 9:00 a.m. and arriving in Lexington around 5:00 or 6:00, just in time for a quick tour through the city and some dinner at a Mexican restaurant along the outskirts of town. This time, however, we weren't so lucky.

My step-dad is pretty big on leaving super early any time we take a trip and wanted to start our journey west around 4:00 a.m. We talked some sense into him and got him to agree to 5:00 a.m. As we were camping this time, our caravan set-up was a little different. My step-dad drove his truck pulling the RV, and the boys (James and Kyle) rode with him while I drove my mom's SUV and the girls rode with me. We got onto 695 and headed out towards 70 and all was fine.

A few hours into the trip, we stopped at a rest area just over the West Virginia line. All was well. Back into the vehicles. About a half hour later, my step-dad pulls into another rest area, and we all think this is odd because everyone just went! We park and the guys come over to tell us that the truck is acting funny and having a hard time making it up the many inclines as we're traveling through the mountainous region. That's not good.

In true 2013 fashion, we all whip out our smart phones and start googling shops that may be open (oh yeah – it was a Sunday!), what could be wrong with the truck, etc. We end up at a National Tire & Battery in who-knows-where West Virginia, and they pull two codes…one says something's wrong with the spark plugs and another says it can only be read by a Chevrolet-specific dealer. So we have no idea what that code is reading. Crud. We disconnect the RV, set up camp in the middle of the parking lot, and watch the afternoon fade away as we have lunch and play games for three hours while they are working on the truck.

After the spark plugs have been replaced and they are driving the truck around, it's clear that it's still not in great working order…but we have to go or we'll be setting up camp (read: parking the RV in the slip) in the dark! So with fingers crossed, we load up and head out.

Up the mountain and down the mountain, the truck keeps going. At this point, James is driving my mom's RV with me riding shotgun, and Kim and Kyle are in the back. The parents are in front in the truck.

We pull into Lexington around 8:30 p.m. after driving through a little rain. The parents set up the RV while the "kids" head out to scout for some dinner. We come back with Wendy's, but we're all so hungry that no one cares that it's fast food.

Even though we've had a rough start to our trip, I'm still all worked up and excited because we are in the Bluegrass State and in Lexington, The Horse Capital of the World!