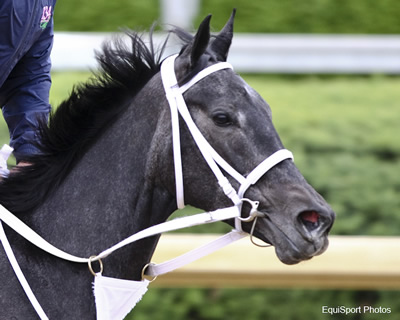 07 May

Kentucky Derby Memories
With the 137th running of the Kentucky Derby tomorrow, I figured I'd highlight a few of my all-time favorite horses whose hoot-prints left their mark in history.
As a horse crazy girl, the Kentucky Derby was like Christmas in May…and with the Preakness and Belmont to follow, the Triple Crown was the best thing to ever happen to America– as far as I was concerned. All the TV stations would have non-stop coverage of the events, profiling each champion equine on their quest for greatness. I would sit in front of the TV and dream about attending each of the three races…and also dream about owning my very own Thoroughbred one day.
Below are some horses who have truly touched my heart in their run for the roses.
First is Silver Charm, the winner of the 1997 Kentucky Derby and Preakness Stakes. I remember paging through the TV Guide, reading about each Derby hopeful…and then settling on Silver Charm. Maybe it was his beautiful grey coat…but he was my pick. And sure enough – he won. I just knew he was going to win the Triple Crown, but he lost the Belmont to Touch Gold by ¾ of a length. I was heartbroken…but I will always remember how I felt the day he crossed the finish line at the Kentucky Derby, for that was when I knew I would always love horseracing…the good, the bad, and the ugly.
In 2006 an undefeated colt named Barbaro arrived to win the Derby by almost seven lengths. Like everyone else, I thought he was our next Triple Crown winner. The last was Affirmed in 1978, a few years before I was born, so I was anxious to crown another champion.
I was so excited to attend the Preakness Stakes that year for the very first time…and what a nightmare it turned out to be for Barbaro was virtually right in front of me when he broke down. I'll never forget his courageous fight in the months following his injury – what a brave horse.
After Barbaro, horseracing had a permanent black cloud following it around…and it didn't disappear in 2008. The winner of the Derby, Big Brown, was a gallant horse…but it was the second place finisher who stole my heart. The only filly in the field, a sweet grey named Eight Belles, broke down just after the finish and had to be put down. With both front ankles broken, she could not be saved.
A whirlwind of controversy blew through the industry with some saying dirt tracks were dangerous – that horses should only run on synthetic or grass surfaces. Then others wanted to do away with the jockeys' crops. Some thought that the horses shouldn't be allowed to race as two year olds, instead starting as three year olds to give their bodies more time to develop. And finally, others wanted to permanently separate the colts from the fillies.
Regardless of the argument, Eight Belles was a fighter and a champion and deserved to be there on Derby day to run against the best in the world. She ran a beautiful race, an admirable second place. No one could have predicted her future. When she crossed that finish line, she looked happy and content…her death was an absolute tragedy, but no one could have known what was about to happen. Her trainer, Larry Jones, left the racing industry just a year later, saying that Eight Belles' death had been too much for him – that he was done with racing. We all miss you, sweet little filly.
And finally (I'll end on a positive note), in 2009 the world met Mine That Bird. A 50-1 long-shot, I doubt anyone will forget his amazing stretch drive with Calvin "Bo-rail" Borel aboard. The colt who arrived at the Derby in a battered trailer took down all the big names in racing. He was simply amazing…and racing needed that.
As much as I wanted him to keep winning, I was completely torn come Preakness Day. Rachel Alexandra, super filly and very decisive winner of the Kentucky Oaks (The Derby for just the girls), was attempting to win the second jewel of the Triple Crown – something a filly had not done in over 80 years. I just had to root for the girl! And Mine That Bird came in a gamely second; he almost caught her in the end.
I'm hoping for a spectacular, but safe, race tomorrow! And one day, I will attend the Kentucky Derby…floppy hat on head and mint julep in hand!