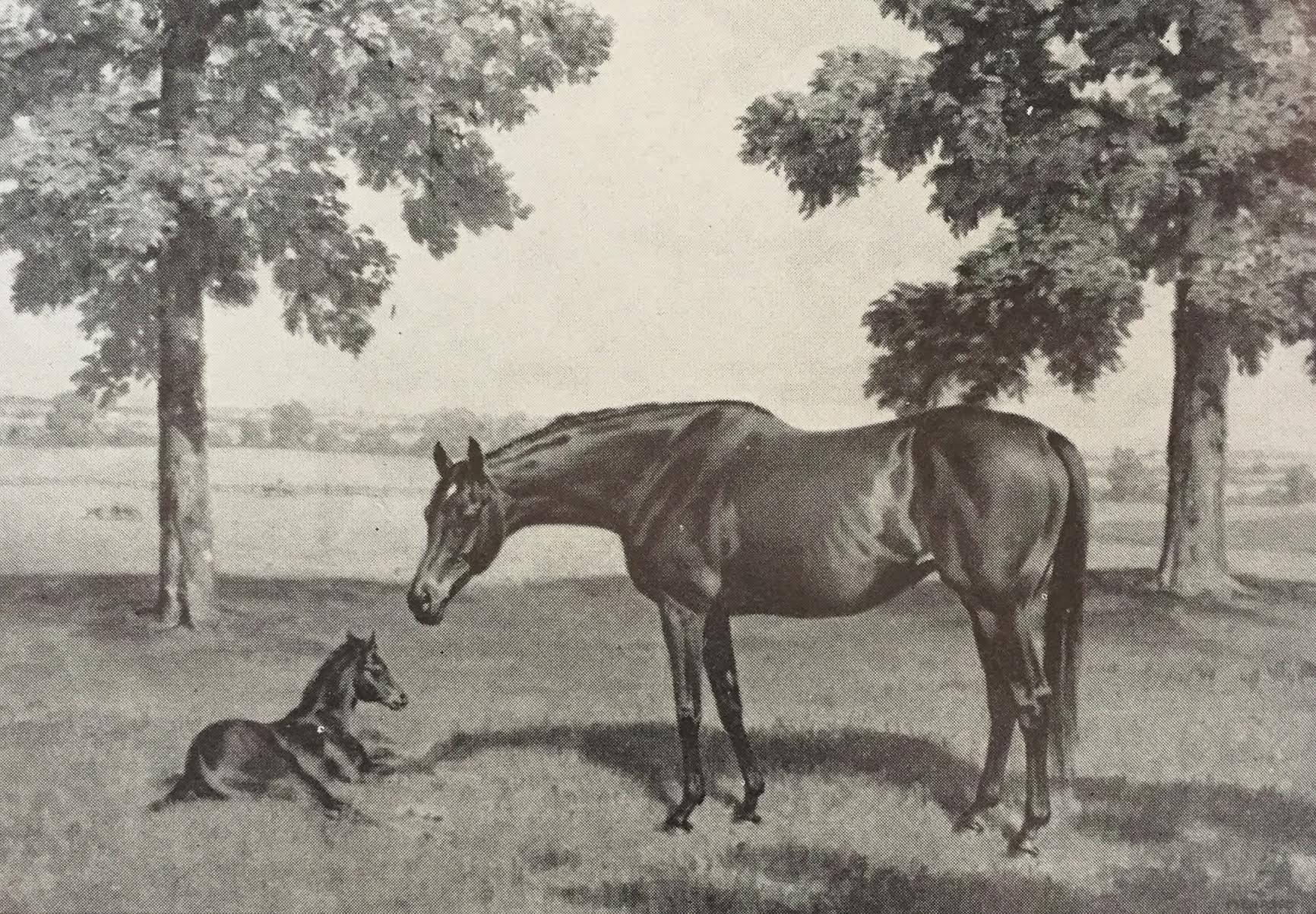 25 Sep

La Troienne and Her Foals

Our education of the great equestrian artist, Milton Menasco, continues…

In this post we'll take a look at Menasco's most famous and valuable work, "La Troienne and Her Foals: Eighteen Vignettes and One Painting Together in One Frame." Menasco was commissioned by John Whitney in 1953 to paint this famous broodmare and all her offspring.

You may be wondering, who is La Troienne? She was one of the most influential broodmares in America during the 20th century, producing 10 winners during her breeding career. La Troienne was born in France in 1926; she was by Teddy out of Helene de Troie by British stallion, Helicon.

In 1931, she was purchased by Colonel E. R. Bradley of the Idle Hour Stock Farm in Lexington, Kentucky and exported to the United States. La Troienne produced 14 foals, 12 raced, and 10 were winners, including four stakes winners with seven stakes victories between them.

Her first foal in 1932, Black Helen, won the American Derby, the Florida Derby, the Maryland Handicap, and the Coaching Club American Oaks. Another well-known foal was Businesslike, who, while not successful on the track, proved valuable as a broodmare. Her descendants include: Busher, Easy Goer, Smarty Jones, Caerleon, Sea Hero, Go For Gin, Pleasant Tap, Mineshaft, Lite Light, Woodman, Princess Rooney, Prairie Bayou, Rhythm, Folklore, and Shakespeare.

Menasco's original "La Troienne" was painted in the oil medium; however, some of his studies for the larger piece were done in pastel.

This painting was exhibited at the New York Metropolitan Museum of Art and the National Museum of Racing and Hall of Fame in Saratoga, New York. In 1999, it sold from the estate of Betsey Cushing Roosevelt Whitney through Sotheby's auction house for $120,000.