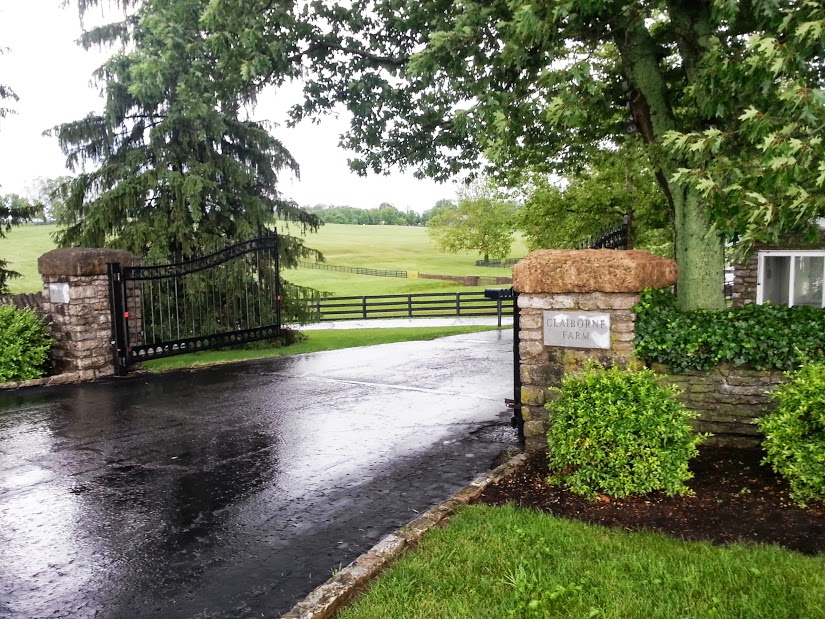 26 Apr

Lexington 2013: Claiborne Farm

I realized I forgot to write the final installment of my 2013 Lexington, Kentucky trip…which was almost a year ago at this point. Yikes! Sorry friends!

Our last day in Lexington was jam-packed, as expected. The morning was spent at the historic Claiborne Farm, which is where the famous Secretariat stood at stud and is now buried. It was a cloudy day, but the forecast was not calling for rain. They were wrong.

Unlike all the other stud farms (with the exception of our once-in-a-lifetime experience with Shackleford at Darby Dan), we were allowed to pet the stallions at Claiborne. Our tour guide, the stallion manager, was amazing. He had no problem letting us pet the horses and take as many pictures with them as we liked. It was pretty surreal.

Of course we got to see Secretariat's stall, which is now home to Eddington. Eddington was in his stall when we came by, and he was quite the character! He was VERY adamant that our guide could not leave until he was fed five peppermints – too funny!

Halfway through the tour the rain came pouring down! We had to take cover in a feed room, but only for about five minutes. As soon as it stopped, we met Blame. I took one look at him and was like, YOU! For those who don't know, Blame is the only horse ever to have beaten my beloved Zenyatta. For anyone who saw the Breeder's Cup that year, you know that she would have caught him in just one or two more strides…but that's horseracing for you. Anyway, the guide was laughing at me, but I went up to Blame and told him that while I was upset at him, I understood that he was just doing his job. I'm sure he'll rest easy knowing that I've made peace with it.

The tour ended in the graveyard which housed about twenty tombstones. It had started to rain again, but a true Secretariat fan, like myself, wasn't going to let a little rain slow her down. By his grave was a dozen roses. Our guide told us that an anonymous sender sent Secretariat a dozen roses every single week. That's pretty cool if you ask me!

After this tour, we journeyed back toward Lexington (because Claiborne is located in Paris in the opposite direction of where we were staying), and drove over to Woodford Reserve to take the bourbon tour again. As always, Woodford put on a wonderful tour, even though we had already been through it. You can read about it in more detail here (from 2010).

Unfortunately, our last night in Lex was spent at a not-so-wonderful restaurant. The location, atmosphere, and service were excellent…but the food? Not so much. I won't name names, of course, because I'm not about bashing anyone's business. I'm sure some people would have enjoyed the food, but it was a little too gourmet/fru-fru for us. We are a steak and potatoes kind of family!

As I'm writing this, I'm seething with jealousy because my friends Susan and Zach are in Lex for Rolex. They've never been to Lex, so of course I provided them with lots of things to do and restaurants to try! I can't wait until I get back to Lex…hopefully in the next year or two for Rolex myself!