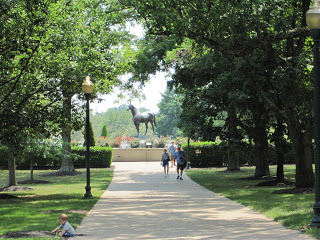 06 Mar

Man O' War
For those of you who don't know anything about horse racing giant Man O' War…I can tell you that he was kind of…The Man.
Man O' War, along with some of his offspring, is buried at the Kentucky Horse Park. In the words of my husband, "this horse's grave is nicer and fancier than anything we'll ever have…it might be better than Kennedy's." My response? "He deserves it."
But James is completely right. Man O' War's burial site is super extravagant – fit for a king…and he truly was the King of Racing. He won 20 of his 21 races, including the Preakness and the Belmont, (interestingly, he did not run in the Kentucky Derby).
Just before you enter the horse park, a beautiful, tree-lined sidewalk off to the left leads you to the grave site. With an imposing statue, multiple fountains, plenty of rose bushes, and an engraved poem in dedication, this horse has it all!
Interestingly, Man O' War is Misty's great x five grandfather. He is also the father of Triple Crown winner War Admiral, who lost the match race to Seabiscuit in 1938. Also, I still have a Breyer horse model of him – pretty cute!
If you ever get to the horse park, take a moment to check out the impressive burial site of Misty's relative!