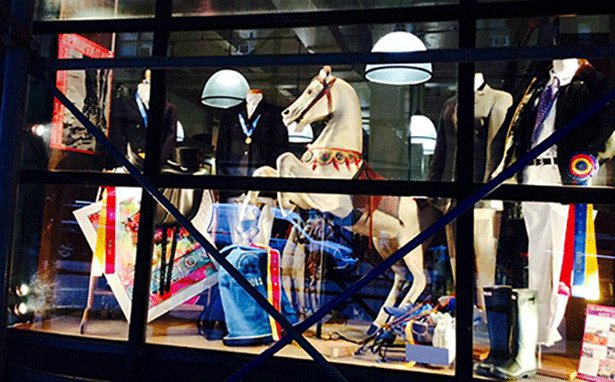 28 Aug

Manhattan Saddlery

On our way out of New York City last week, my husband and I traveled south on Madison Avenue to 24th Street where we found the last tack shop in the city: Manhattan Saddlery. It was nestled behind some scaffolding, so we almost missed it.

After being buzzed inside, it was like stepping back in time. According to Dappled Grey (where I first learned of Manhattan Saddlery's existence, the shop, "Originally opened in 1912 as Miller's Harness Company, [and peddled] tack and saddles to New York equestrians like the Kennedy and Rockefeller families and also operated a popular mail order catalog for almost 80 years. Along with H. Kauffman & Sons, Miller's made the stretch of 24th Street between Lexington and Park Avenues the city's premiere equestrian destination for most of the 1900s."

After perusing the shelves and racks, I settled on a long-sleeved Noel Asmar Equestrian shirt (on sale!), and James purchased a dress polo shirt that was made in Argentina (not on sale!). We were the only ones in the store, so we took our time, chatting with the cashier, who was very friendly.

We asked her where locals would board their horses, and were surprised to learn that they had quite a few options as long as they were willing to travel about an hour. New Jersey, Long Island, and Connecticut (where she kept hers) were just a short train ride away. The closer to the city, however, and the price of board went way up to the tune of approximately $2,000 a month!!

Unfortunately, it was pretty dark in the store, so I was unable to get some decent pictures. The ones below are from Dappled Grey and Horse & Style.

Enjoy your weekend!