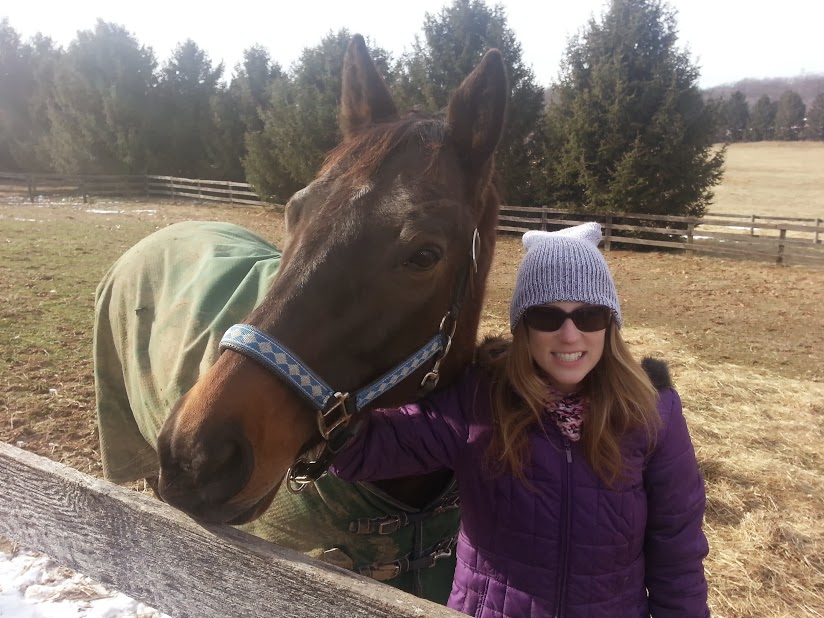 16 Jan

Martha's Mon

Who is Martha's Mon, you might be wondering? He's my new horse, that's who! I know, I know – I can't believe I bought another horse either, (and in the dead of winter no less), but he's a Berglie! Martha's Mon was his race name, but his previous owner called him Billy. I know way too many human Billys, so I changed it slightly to Bailey. That way it's still close enough that he knows I'm calling for him, but he probably thinks I just have a nice southern accent.

Anyway, Bailey is a 10 year old OTTB who was born in Florida but raced mostly in the Mid-Atlantic, and he was a winner too! He raced 29 times, retired sound, and has a hunter/jumper background. Perfect. He belonged to a friend of a friend, and he came home on January 8th. Actually, he's not "home" as in my farm; he's home as in my old boarding stable. My place isn't suitable for three horses (during the winter) because it's a mud-pit, my 3rd stall is currently hay storage, and even on nicer days, the fields are too wet to ride in. At my old place (which is 55 acres and is home to only 12 horses), he's in a huge 10 acre field with my mom's and sister's geldings, and there's a ring in which I can ride most of the time because it drains better than my muddy fields. So he'll stay there until the weather clears up a bit.

Originally, I had planned to start looking for a new horse in the spring, but Bailey was available now and for the right price. Trying out a horse in the winter truly sucks though. I rode him in early December, but then Maryland was hit with quite a bit of snow and ice, so I didn't get a chance to ride him again (and with my trainer this time) until New Year's Eve! And then we got more snow, so we had to wait a week until the farm driveways were clean enough for a trailer to get through safely. What a pain!

What I like best about Bailey is his laidback personality. He reminds me a lot of my husband, actually, (and Misty and I are two peas in a pod, unfortunately…but that's why I love her so much. I see myself in her!). On Bailey's first day home, he walked off the trailer, went out into his paddock, looked around for maybe 15 seconds, and then settled down to eat his hay. Quite the contrary, Misty's homecoming is legendary, but you gotta love a girl with some spunk, right? Since then, Bailey has been introduced to my mom's herd and is already making friends. I haven't had a chance to ride because now instead of snow we've gotten a ton of rain, but I've been over to see him frequently, groom him, and introduce him to the other barns and ring. He takes everything in stride.

I'm looking forward to just having fun with him, feeling safe, (as safe as you can feel on the back of a horse), and regaining my confidence. I'd like to train with him and see what he can teach me, and I'd love to take him off the farm a few times this year to a show or two and maybe a paperchase. But we will see – you all know I like to take baby steps! And also for the record – my husband is a saint. So much so that I've named the horse after him – Bailey James.