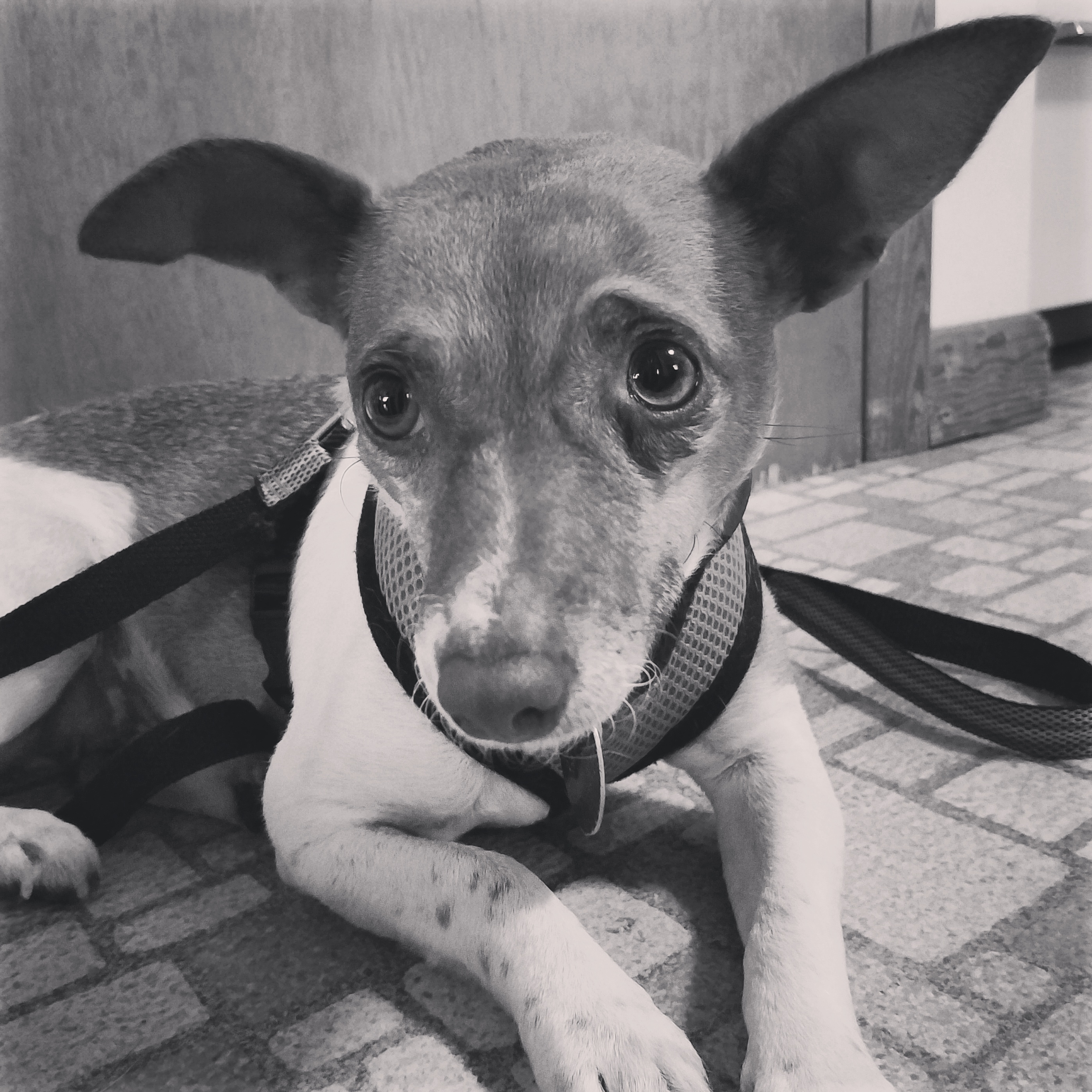 08 Nov

Meet Mint Julep

If you follow my Instagram account, then you know that last month I adopted a rescue dog! After being a one-dog family for nine years, we recently adopted Mint Julep, a Jack Russell terrier mix, and she has absolutely stolen my heart!

James and I had decided that when we moved to our farm more than three years ago that we were going to grow our four-legged family and get another dog. But for some reason, every time I thought seriously about getting another, I got cold feet and changed my mind. Izzie, our German Shepherd, is kind of perfect, and I'm not bragging. She is just a wonderful, perfect dog for our family, and the thought of adding another, whom I just knew could never measure up to our Iz, just didn't sit well.

On my 34th birthday back in September, I was looking at the available dogs through the Mid-Atlantic Jack Rescue (MAJR). There were quite a few that sounded promising as James and I had three requirements – first, the dog had to be cat-friendly as we have two crazy felines. Second, I have only had female dogs, so I wanted another girl. And finally, NO PUPPIES! I know that sounds a bit odd, but I just don't have the desire to train a pup, nor do I want to go outside multiple times a night so the baby can pee.

I noticed on MAJR's site that they'd be at the Darlington Apple Festival the following day, which is an event my mom and sister and I attend every year. I stopped by their booth the next morning, and that is where I met my girl – Eva! Well, that was her name at the time. Eva was dressed as a little shark and was adorable. She is about two and a half years old.

I spoke with her foster mom at length and learned that Eva had been living in the wild in Southern Virginia when she and her puppy were rescued and taken to a high-kill shelter. Her puppy was adopted right away, but Eva's time was running out. Fortunately, a volunteer at the shelter took a liking to my little girl and notified MAJR. She was then placed with her foster family who is responsible for all her rehabilitation as she needed lots of time to learn to trust again.

After submitting the application, giving my references, and doing the home visit, Eva was mine, and I already had her new name picked out! Mint Julep! I had been saving that name for my first Jack Russell for quite some time, so on October 9th, we brought our Julep home!

Izzie, consistent with her perfect dog status, has been a great big sister and has instilled so much confidence in Julep as Izzie is just a confident dog herself. It has taken some time for Julep to warm up to my husband, (her foster mom had told me that Julep was afraid of men), but they are getting there and do like to snuggle on the couch. As for me? It was basically love at first sight. Julep and I bonded instantly and are never far apart.

If you are thinking about rescuing a dog, do it. You will not regret it for a second. It has been such a wonderful and rewarding experience watching Julep come out of her shell and blossom into the silly little girl I knew she could be. She loves living with us, and especially loves stealing Izzie's toys and creating her toy empire! Julep does not particularly care for the horses, (I think they're too big for her!), but that's okay. As long as she's nice to the cats (which she is) and gets along with Iz, that's all that matters.

My heart is so full thanks to a little rescue pup named Mint Julep, and she is pretty perfect in her own way.