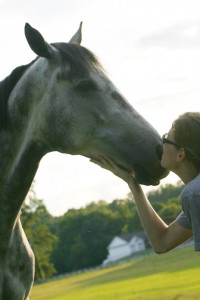 08 May

Misty Update

I haven't posted about my girl lately, so here's an update on my wild child!

Actually, she's not so wild right now. Thanks to the beautiful weather, I've been able to ride very regularly and Misty is getting back into shape rather nicely! Misty is a mare who needs to be in very regular work in order to stay fit in body AND mind.

If she isn't worked at least 3 or 4 times a week, she'll start to lose muscle strength and overall fitness. More importantly, if I don't keep her in a routine, then she just doesn't want to be ridden, plain and simple! Like some humans, she'll get lazy if not pushed and then won't feel like stepping up when the saddle comes out. And trust me, if a 1200+ lb. horse doesn't want to move forward, there's very little I can do to convince her otherwise!

I have our first show on the calendar – a dressage schooling show at the beginning of June. Since this will be her first time off the farm this year, I don't have any huge expectations. I just want this to be another good experience; it will be her 4th lifetime show, so she's still pretty green out there.

Hopefully we can keep pushing forward this summer (knock on wood for no abscesses, back pain, etc.!) and finally re-start our jumping lessons!

Thanks for reading and Happy Sassy Grey Horse Riding!