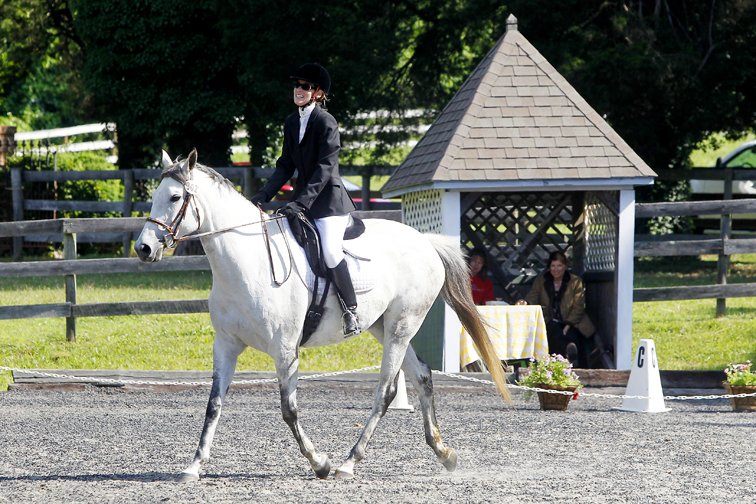 12 Jul

Misty's 1st Show of 2012

Misty attended her first show of 2012 (4th total) on June 3rd. It was a Maryland Dressage Association schooling show, and since we had such a wonderful experience at her first dressage schooling show last November, I couldn't wait to compete in this one!

This show was at Olney Farm in Joppa, which is just a few miles from my boarding stable – perfect! I was riding in two Intro Novice tests and my first one was at 8:50. We arrived at 8 on the dot and I unloaded Misty from her trailer.

Right away I could tell she was going to be a handful. Usually my girl handles going off the farm in stride, but she definitely had ants in her pants that day! She was manageable, but just wouldn't stand still. I also think it was her time of the month, if you know what I mean.

Understandably, I was a pretty nervous going into the ring because Misty wasn't her usual dead-quiet self…but as soon as we entered and started our test, she was fine. She was definitely still a little looky – but she was listening to me and performing well…better than I thought she would given her earlier behavior.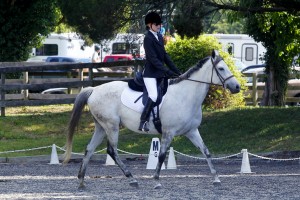 The best part of the day, however, was during my second test when Misty decided she was going to "sing." As we were moving along, she started making this very high pitched squeal/whinny and she held the last note out as long as she could! It was the strangest thing ever and she did it about 4 separate times all while we were performing our test! On the 3
rd
or 4
th
time, I couldn't take it anymore and just started laughing – what was my horse doing?!?!
We finished the test well and scored a 2nd place finish out of it – I guess the judge was impressed with Misty's vocals!
All-in-all, it was a good day. Although she was a little wired, when the time came to get down to business, Misty was able to get her head in the game for the most part. It was a good first show of the season – looking forward to quite a few more this year!