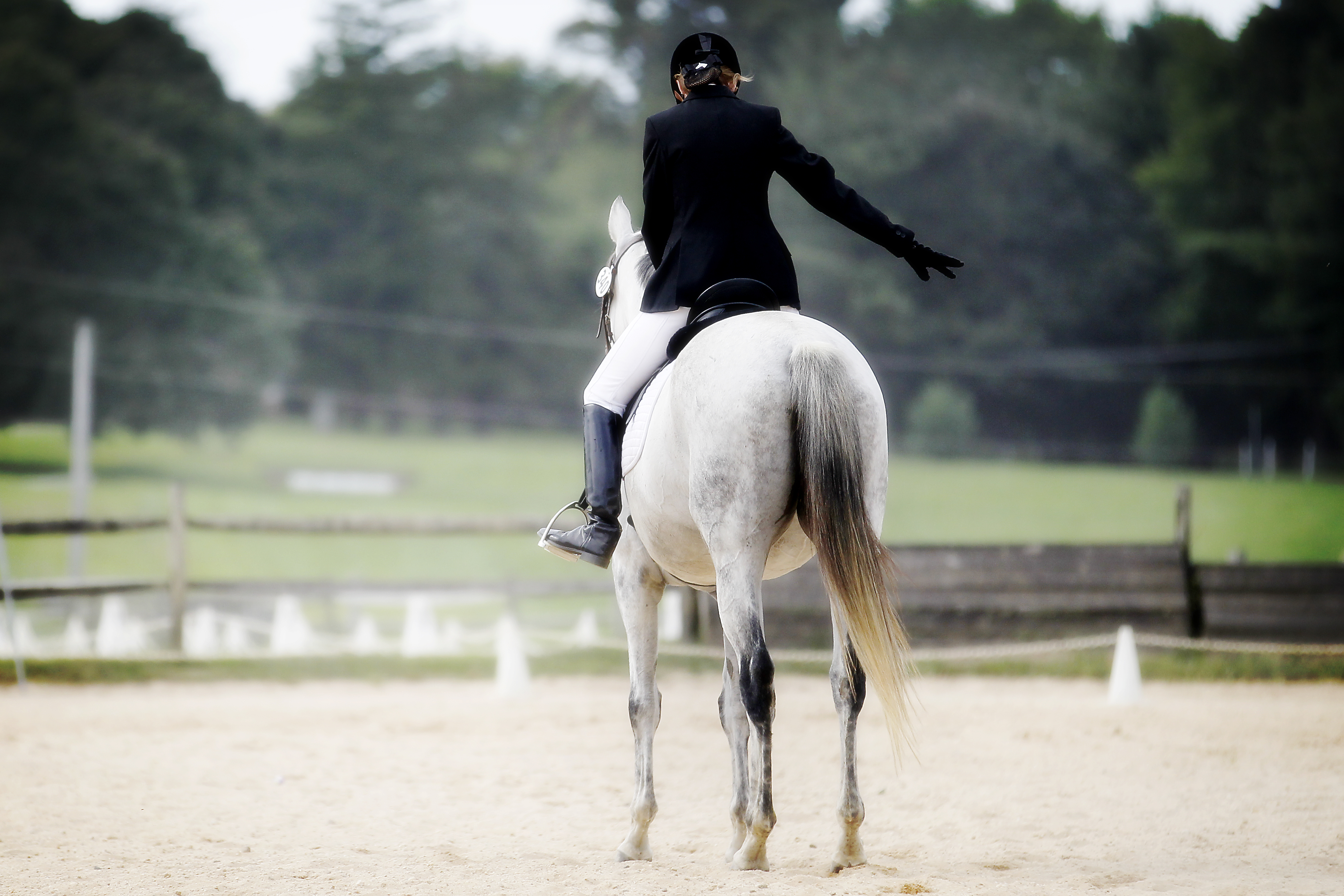 26 Sep

Misty's 2nd Show of 2012

Our 2nd show of 2012 (our 5th show total) was, by far, our best show to date! At Olney earlier this year, Misty had some serious ants in her pants. We got through the show just fine, but I knew we could have done better. But I never beat myself up over things like this because a) it was still a good, safe experience, b) Misty is still green and learning, and c) all I'm out to do is have a little fun anyway!

On Sunday, September 16th, we ventured out to Tranquility Manor Farm (TMF) in Monkton for another Maryland Dressage Association schooling show. I had been to TMF as a spectator, but never to show. If you've ever been to TMF, you'll remember it for its spacious grounds, large rings/indoor, and seclusion away from any main roads. It's the ultimate equestrian facility. I knew Misty would like it.

Sure enough, I unloaded my girl and she was totally relaxed. She looked around for a minute, and then got down to some serious grazing. We were riding in the same tests we had ridden at Olney (Intro A and B Novice), and I was really hoping to show some improvement after a hard summer of training.

Misty doesn't particularly like other horses. I'm not sure if this is a result of her being an ex-racer…or a mare…but warm-up rings can be difficult for us. As long as everyone remains at a nice distance away from us, Misty is fine…but if someone comes up too close, it really unnerves her. This may also be because we board at a small facility in which there aren't too many other boarders. We usually have the ring to ourselves…or share with my mom and/or sister, and both respect the diva's space!

Luckily, I shared the warm-up ring with only a handful of riders, all of whom were very responsible and respectful! We had a nice (but fairly quick) warm-up, and then it was into the ring for our first test.

Since she was in a new place for the first time, Misty had quite a bit of impulsion (yay!) during this test. She had a moment when she wasn't completely focused on me, but she listened and we got through the test nicely. As we walked out, I knew (or had really hoped!) we had beaten our scores from our June show.

This schooling show at TMF is usually one of the biggest, so I had an hour in between tests. Back into the warm-up ring I went to put Misty through some paces. I didn't ride her hard by any means, but when we came back for our second test, I had a sleepy horse under me. Personally, I liked this test much better than the first. While it was slower as Misty wasn't as forward, it felt much more controlled, smooth, and pretty. But I know energy is what dressage is all about, so I thought we might score a little lower.

Since this was a bigger show, I rode against 6 other competitors! This was a big deal as I normally ride against 2 or 3 others. As one of 7, I just wanted to place and come home with a ribbon!

After the scores had been posted for my first test, I was shocked to see my mom and friend Susan coming over with a red ribbon. Second place? That's not right…they must have stolen someone's ribbon! I mean – there were 7 of us…I was praying for 5th or 6th…but 2nd? I was seriously overjoyed!!! We scored a 66%!

And, as expected, we scored a little lower on the second test (a 64%) because of our lack of impulsion. Either way, it was still good enough for a 3rd place!

Needless to say, I could not have been prouder of my Misty! Not only was she calm and collected in the warm-up ring, but she was attentive and (mostly) focused during our tests. I am such a proud horse momma!