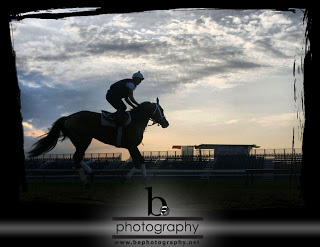 03 Jun

More Preakness Pictures

As I mentioned in a previous blog, James was covering Preakness and the days leading up to it for his agency, Zuma Press. Below are some of my favorite pictures. Enjoy!

This is probably one of my all-time favorite pictures – period. I love the sky…the subject (naturally) and the simplicity of the horse and rider out for an early morning workout.

I think this picture was taken on Black Eyed Susan Day. Todd Pletcher, trainer of 2010 Kentucky Derby winner, Super Saver, takes a stroll past the starting gate.
Mucho Macho Man ponders the meaning of life.
Here is Shackleford, the eventual winner, working out the day before the Preakness.
Look at this guy go!!
And I saved the most interesting picture for last! The horse on the right is Misty's "brother"…kind of. This horse's grandsire was Misty's sire. Money For Love put up a tremendous fight, but he came in second by a nose.