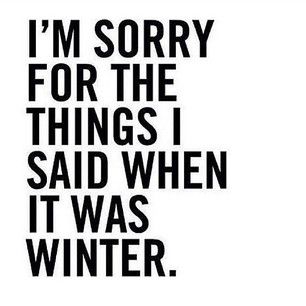 04 Mar

Most Wonderful Time of the Year

I know what you're thinking – there's no possible way Laurie can be referring to THIS time of the year as the most wonderful. Yes, you know me well. I hate cold and cannot wait for spring. But if you think about it, the beginning of March truly is the best time of the year because winter is almost gone.

As Daylight Saving Time approaches this weekend (an official holiday in the equestrian community), we could not get further from winter if we tried. Yes, it's still cold, and yes, there is still some snow on the ground, but think about it – winter is 95% behind us. We have clear sailing ahead!

I'm the type of person who gets depressed on the first day of summer. I love that it's the longest day of the year, but it makes me sad that summer is here. Which means that before I know it, summer will be over. This is similar to how (at least for me) the build up to Christmas with all its cheer and festivities is sometimes better than the actual day.

So let's take a moment to recognize and bask in the glory that the three best seasons are ahead of us. Get out of here Old Man Winter!