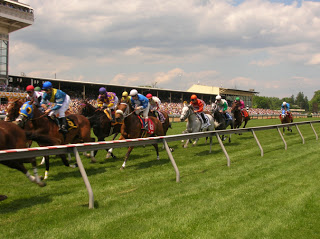 25 May

My Preakness

For as long as I could remember, I wanted to attend the Preakness Stakes. As a little girl, I would get so excited just knowing that the Preakness was held in Baltimore – finally, my city could claim something great – something big! On the morning of the race, I would go outside and pick handfuls of buttercups, tie them together into a miniature garland necklace, and drape them around my pony's neck. Being the patient soul that she still is, Takoma Star (Komie), would stand there sweetly while I fawned all over her.
In 2006, my dream came true – I was off to the races! Thanks to Mary's media passes, we toured all over the grandstand, the infield, and then finally made our way along the rail at the Turfside Terrace where we watched most of the races. Later on we ventured into the corporate tent area and met Cal Ripken. It was a beautiful, sunny day in Baltimore and I was at the Preakness!
I loved my media pass – thanks MK!
Me in the Winner's Circle…probably not supposed to be there!
Me, Mary and Cal. Not sure why – but I could really go for a glass of milk right now…
Then Barbaro broke through the starting gate too early…bursting through the doors before they even opened. Moments later, he broke down right in front of my eyes. I was devastated. I followed his heartbreaking story until he was put down almost nine months later.
My next Preakness experience, however, was just as happy as my first one was sad. In 2009, I returned to watch super filly, Rachel Alexandra, hold off Mine That Bird's final stretch run. As much as I wanted to see him win and be a contender for the Triple Crown, I wanted to see the little girl beat the pants off the boys – and she did!
After a little stalking, I got to meet Olympic Show Jumping Gold Medalist – Michael Matz. Most recently, he was Barbaro's trainer.
Rachel Alexandra says – stick it boys!
The garland of Black Eyed Susans…but not really. Black Eyed Susans don't bloom until mid-summer…this is really a garland of yellow painted daisies.
Me at the Stakes Barn…again…some place I'm not supposed to be. Fancy horses can make me break all kinds of rules.
I watched Lookin At Lucky win in 2010 – and watched as Animal Kingdom came in just behind Shackleford this year. With all its grandeur and excitement, my addiction has grown and I'm determined to attend Preakness every year from here on out.
Shackleford stayin' clean and kickin' butt…
Most of you know that these Triple Crown races are steeped in tradition…but most don't know some of the specifics that make our race unique. Below are a few interesting facts about Pimlico Racetrack and the Preakness Stakes.
– Pimlico is America's second oldest racetrack; Saratoga is the oldest.
– While visiting friends in New York in 1868, Maryland Governor, Oden Bowie, vowed to his friends to hold a horse race in his home state in two years time. His friends from New York would venture down to Baltimore; the losers of the race would have to buy dinner for the winners. Realizing that a horse race could not be run without a track, Bowie commissioned for one to be built.
– The Maryland Jockey Club purchased the land for $23,500 and the racetrack was built for $25,000. The track was named Pimlico after the surrounding area that was first christened "Pemblicoe" by English settlers in 1669.
– The first race held at Pimlico, "The Dinner Stakes," was won by a colt named Preakness, thus inspiring the name for the second jewel of the Triple Crown!
No zooming here…I was this close to the turf races in 2006!