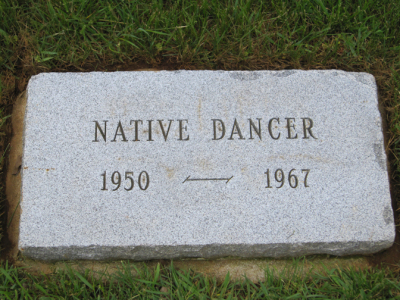 05 May

My Saturday at Sagamore Farm

Saturday, April 28th was Friends and Family of Under Armour Day at Sagamore Farm. I was lucky enough to score entrance thanks to a friend of a friend!

Of course, I took my two best horse friends with me, my mom and my sister. The farm was open from 8 am until 10, so we arrived promptly at 7:50 am. (Side note: I love sleeping in on the weekends, but I will drag myself out of bed early for one thing and one thing only: horses).

Sagamore is beautiful. Located in Glyndon, Maryland, the farm is jaw-droppingly perfect. White four-board fencing covers 18 miles of pristine acreage, immaculately cut and maintained. (Side note 2: this was not the first time I'd been to Sagamore. About 4 months ago, James and I were in the area when we came across the farm. Our conversation was very reminiscent to the ones we had in Lexington, Kentucky. "Turn down that lane – I want to get a better look." "Are we allowed to?" "This is a street. Not a private driveway…right?" "I have no idea." "Get me as close as you can." "Laur, I don't know –" "JUST KEEP GOING!")

And FYI – it was a street and not a driveway!

Anyway, Kevin Plank, the founder and CEO of Under Armour, purchased the farm in 2007 with the hopes of bringing Maryland racing back to life. This is a cause that's near and dear to my heart, so having someone like Kevin Plank on board makes me feel like we have a chance!

First, we dined on doughnuts and coffee in a heated tent (because now that I'm not as busy with work and travel and can ride/be outside more often, the warmer temps have left town – naturally). Then, Tom Mullikin, the General Manager, came and invited us to watch the morning work-outs of a few of their rising stars. My favorite was a grey filly (whose name I didn't catch) who breezed by us at lightning speed. I also enjoyed What's the Record, a dark bay, 4 year old gelding who got right down to work despite the crowd of people along the rail.

Farm tours were going off every 15 minutes, so we met our guide at the indoor training track (that's right – indoor TRACK!!) and off we went. We visited Native Dancer's barn and peered inside the stall he occupied so many years ago. We stopped by the training barn and learned a little about that barn's AWESOME ventilation system.

We caught a glimpse of possible Preakness contender, Tiger Walk. I can't wait to cheer him on as I'll be attending Preakness once again this year!

Then we journeyed up to the graveyard, the final resting place of Sagamore's 12 champions: Native Dancer, Bed O' Roses, and Discovery, to name a few.

Finally, we ended up on the other side of the track, which we learned is "synthetic Tapeta that incorporates pieces of recycled Under Armour performance material." Interesting!! I just had to stop and feel the footing – what a perfect mixture!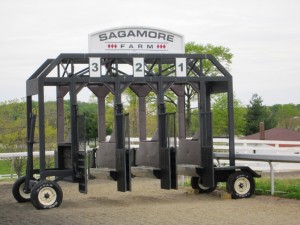 Before we left for the day, we glanced back over at the tent and saw Kevin Plank himself, greeting his guests. I really wanted to introduce myself, but I wimped out at the end! Since when am I shy!?
However, it was still a beautiful day touring Maryland's finest racing stable! I hope I can visit again soon!